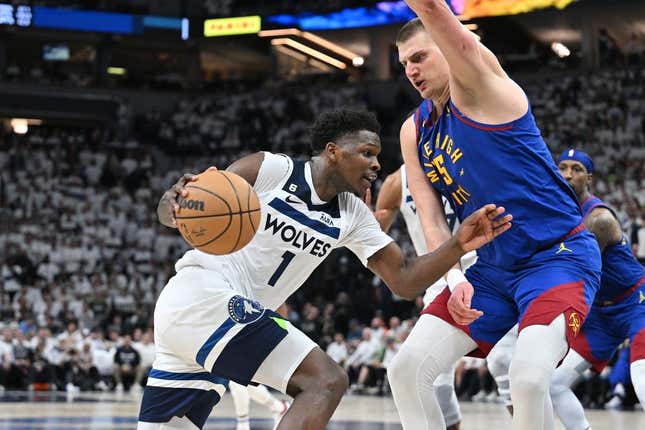 The Denver Nuggets have never been a No. 1 seed before this season, which has meant there are some things to get used to with the lofty perch
Aaron Rodgers should go full Joe Namath | Comedian Bert Kreischer
One new scenario: Embracing the benefits of closing out a No. 8 seed as soon as possible.
The Nuggets had a chance to sweep the Minnesota Timberwolves with a Game 4 win on Sunday night and nearly pulled it off in overtime. But Minnesota persevered and now the teams are heading for a Game 5 at Denver on Tuesday night
The Timberwolves still have a daunting task ahead of them. No NBA team has won a seven-game series after losing the first three games. A few teams have rallied to force a seventh game, including the 1994 Nuggets, but that's as close as any team has come
Denver is determined not to make another trip to the Midwest in the series. After blowing their chance at victory Sunday night the Nuggets are expected to be focused at home
They also should be realistic. The closest any team has come to sweeping through the postseason is losing just one game. The last one to do it was the 2017 Golden State Warriors, who won their first 15 playoff games before losing.
"I didn't think we were going to go undefeated the whole postseason," Denver coach Michael Malone said. "The hardest thing to stomach about this game is that we were unwilling and unable to get necessary stops."
The Nuggets failed in that department in Game 4, especially in overtime when they were beaten by timely 3-pointers. Two of those extra-period 3s came from Nickeil Alexander-Walker, who is getting more playing time while Jaden McDaniels is out with a broken hand
"I know my teammates are going to rely on me because they're making that right play," Alexander-Walker said. "And just being confident in my work, trusting it and knowing that eventually the law of averages, the shots have to fall."
He may be relied on more if Kyle Anderson is ruled out for Tuesday night. Anderson left Game 4 after teammate Anthony Edwards inadvertently smacked him in the eye in the third quarter. Coach Chris Finch said Anderson saw an eye specialist and his availability is undetermined.
If the Timberwolves have a chance of extending the series, it rests on the shoulders of Edwards. He has averaged 37.0 points since being held to 18 in Game 1 and sealed the victory Sunday on a 3-pointer to put Minnesota ahead by four with seconds left
Despite being just 21 years old, he accepts the burden of leadership.
"I know my team. I know they're counting on me to pick us up. That's just what I do," Edwards said. "I feel like in those moments, that's when I come alive the most is when we go down."
Edwards has scored 30 or more points in half of his 10 career playoff games, and is only the second player to have five such games at age 21 or younger. LeBron James did it eight times, while Kobe Bryant did it four times.
"It's just stats," Edwards said. "Those guys have won championships ... but I haven't done anything. I haven't made it out of the first round."
--Field Level Media