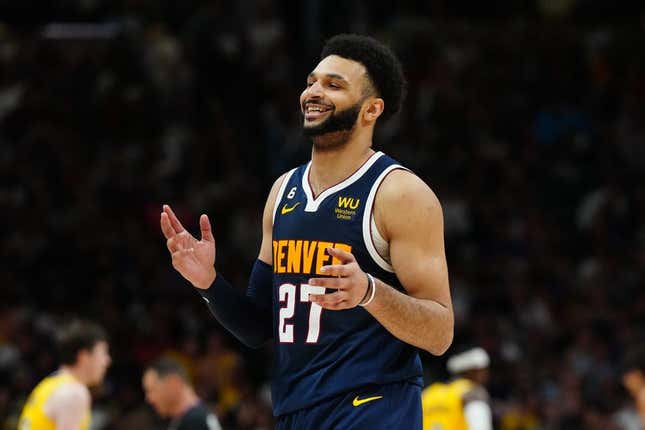 Two-time league MVP Nikola Jokic is enjoying an historic postseason but teammate Jamal Murray can be cited as the prime reason why the Denver Nuggets are just two victories away from reaching the NBA Finals for the first time
Air Jordans are more American than McDonald's French fries | Deon Cole's Ultimate Sports Fantasy
The Nuggets can move closer to the elusive milestone on Saturday night when they visit the Los Angeles Lakers in Game 3 of the Western Conference finals
Murray's explosive fourth-quarter performance fueled Thursday's 108-103 win to give Denver a 2-0 edge in the best-of-seven series.
He poured in 23 of Denver's 32 fourth-quarter points on 6-of-7 shooting, including four 3-pointers, as the Nuggets held off the Lakers. Murray finished with a game-high 37 points
The game wasn't going Murray's way over the first three quarters as he made just five of 17 shots and Denver trailed by three points entering the final period.
"I think he was amazing," Jokic said. "Yes, maybe in the first half he struggled to make shots, but when it mattered the most, he made shots and he won us the game, basically."
Murray is averaging 34 points in the series. He scored 31 in Denver's 132-126 victory in Game 1.
After Game 2, he said the subpar shooting over the first three quarters wasn't even a burden.
"For those who have seen me play before, after a shooting half like that, I normally like to reset, come back down, reset my mind, (do a) quick little meditation in my head and just come back out focused," Murray said. "The game would've been a lot easier if I made them the first half. Just come out focused and knock them down, don't lose any confidence or anything like that."
Jokic contributed 23 points, 17 rebounds and 12 assists for his seventh triple-double of this postseason and his 13th in his playoff career. Only Magic Johnson (30) and LeBron James (28) have more.
One thing not sitting well with the Nuggets is that the plight of the seventh-seeded Lakers remains the national narrative -- not the top-seeded team that has beaten them twice so far
"No one talked about Nikola had a historic performance (in Game 1)," Denver coach Michael Malone said. "He's got 13 triple-doubles now, third all-time. What he's doing is just incredible. But the narrative wasn't about the Nuggets, the narrative wasn't about Nikola. The narrative was about the Lakers and their adjustments.
Los Angeles certainly has a lot of adjustments to make if it plans to make a run in the series.
And in the eyes of LeBron James, Game 3 must result in a Lakers victory
"We still got to play with the same desperation as we did (Thursday)," James said. "We came out with an 'L' but (it) doesn't give us any more comfort. We can't go into any postseason game with comfort, just because you either haven't lost at home or you're going back home. I think it's even more you got to be on edge because when you go home, you get in your own bed, get around your family, everybody's being cool and jolly and everything.
"Nah, you got to be even more on edge when you go home."
James twisted an ankle late in Game 2 but insists the ailment is minor and that he will play Saturday.
James scored 22 points in Game 2 but missed all six of his 3-point attempts. Anthony Davis had just 18 points in Game 2. shooting 4-for-15, after pouring in 40 in Game 1.
Lakers coach Darvin Ham still views the series as winnable because his club is undefeated at home in the postseason at 6-0
"They're like us, they're undefeated at home," Ham said. "We knew it was going to be a challenge. A hard, hard one at that. And we said it before we even played one game, we got to buckle in and buckle up, buckle down and buckle up because we planned for this to be a long series."
Austin Reaves (22.5 points per game) and Rui Hachimura (19.0) are playing well for Los Angeles in the series.
--Field Level Media