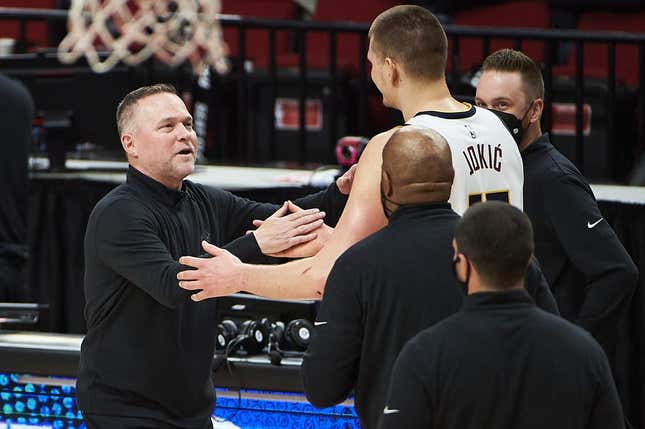 Head coach Michael Malone and the Nuggets fed their energy with the narrative before Game 2 that the Los Angeles Lakers found the cheat code to taking down Denver
'Soccer fandom is full of gatekeepers' says Ted Lasso actor Brendan Hunt
In the buildup to Game 2 on Thursday, a relentless media talking point became Los Angeles moving Rui Hachimura onto two-time MVP Nikola Jokic to leave 7-footer Anthony Davis to float as a rim protector in the lane.
Malone said the Nuggets were scratching their heads wondering how a few key facts were overlooked: Denver won, scored 132 points and Jokic delivered one of the historic conference finals performances on record with 34 points, 21 rebounds, 14 assists and two blocks
"I think a lot of our guys, to be honest, they may not admit this or not, you win Game 1 of the [Western Conference Finals], and all everybody talked about was the Lakers," Malone said Thursday night before shifting attention to the team's trip to Los Angeles for Game 3 on Saturday night.
"Let's be honest, that was the national narrative was hey, the Lakers are fine. They're down 1-0, but they figured something out. No one talked about Nikola just had a historic performance. He's got 13 triple-doubles now, third all time. What he's doing is just incredible. But the narrative wasn't about the Nuggets, the narrative wasn't about Nikola. The narrative was about the Lakers and their adjustments
"You put that in your pipe, you smoke it and you come back, and you know what, we're going to go up 2-0.."
Jokic had his fourth consecutive playoff triple-double -- 23 points, 17 rebounds and 12 assists -- in Game 2. Malone said he won't waste any time wondering if the narrative in national media circles will be different with the Nuggets leading the series 2-0
"I don't care if it does because we know our narrative in that locker room. We know that we're not done," Malone said. "We haven't done anything yet. You've got to win a game on the other team's home court if you really want to do something in a series. We know how great that team is, especially on their home court.
"We're not celebrating. This is not cause for celebration. This is a cause to continue to dig deep and find ways to be better."
LeBron James has never lost the third game of a series with his team trailing 2-0. The Lakers expended considerable energy holding the Nuggets to less than 45 percent shooting at home but a 10-0 run in the third quarter and Jamal Murray's heroic fourth quarter has the Lakers in the 0-2 hole headed home
"What you take out of it is the fact that this is not the NCAA Tournament, it's the first team to four wins. We have an opportunity to go home and play great basketball and hold serve," James said. "Until a team beats you four times then you always have an opportunity to come out of it. So that's the confidence that we should have. I know it's going to be a tough hill to climb up, but we still have an opportunity to play good basketball and play the best basketball of the series in Game 3."
The Lakers are undefeated on their home court in the 2023 playoffs. They won both regular-season home games over the Nuggets by double digits
"We got to buckle in and buckle up, buckle down and buckle up because we planned for this to be a long series," Lakers coach Darvin Ham said. "Hats off to them. They held serve on their home floor. No disrespect to Memphis or Golden State, but this team has been at the top of the food chain for a reason, not just this year but the last few years. So, we definitely got our work cut out for us but we're going to get better from this, as we always do, and we'll bounce back on our home floor."
--Field Level Media