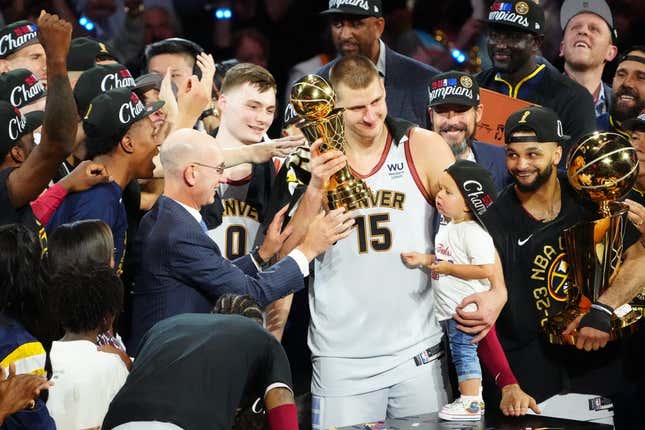 Nikola Jokic and the defending NBA champion Denver Nuggets will be the focal point as the NBA tips off its inaugural in-season tournament, the league announced Tuesday.
How running an NFL team is like running a restaurant | Chef Emeril Lagasse
The tournament, which begins Nov. 3, now has a full game schedule including ESPN, TNT and NBA-TV matchups for group play, which comprises the first two stages of the event.
The NBA is calling the group play games, scheduled for Tuesdays and Fridays in November, "Tournament Nights." Those nights only will consist of group play tourney games.
The Nov. 3 schedule is led by an ESPN doubleheader capped by the Dallas Mavericks at the champion Denver Nuggets. The New York Knicks visit the Milwaukee Bucks in the first game.
Each team will play four group games from Nov. 3-28, two games at home and two games on the road.
All 30 teams were randomly drawn into six groups of five within their conference, based on win-loss records from the 2022-23 regular season.
The NBA announced the groups last month:
Group 1: Philadelphia 76ers, Cleveland Cavaliers, Atlanta Hawks, Indiana Pacers, Detroit Pistons
Group 2: Milwaukee Bucks, New York Knicks, Miami Heat, Washington Wizards, Charlotte Hornets
Group 3: Boston Celtics, Brooklyn Nets, Toronto Raptors, Chicago Bulls, Orlando Magic
Group 4: Memphis Grizzlies, Phoenix Suns, Los Angeles Lakers, Utah Jazz, Portland Trail Blazers
Group 5: Denver Nuggets, Los Angeles Clippers, New Orleans Pelicans, Dallas Mavericks, Houston Rockets
Group 6: Sacramento Kings, Golden State Warriors, Minnesota Timberwolves, Oklahoma City Thunder, San Antonio Spurs
Eight teams (four per conference) will advance to the knockout rounds. Those teams will be the six group winners along with two wild cards, earned by bring the team from each conference with the best record in group games that finished second in its group.
The Dec. 4-5 knockout rounds will be held in NBA team markets, with the Dec. 7 semifinals and Dec. 9 championship games at T-Mobile Arena in Las Vegas.
With the exception of the championship game, all tourney games count toward the regular-season standings.
The complete schedule, as well as the national TV lineup, will be announced Thursday.
- Field Level Media