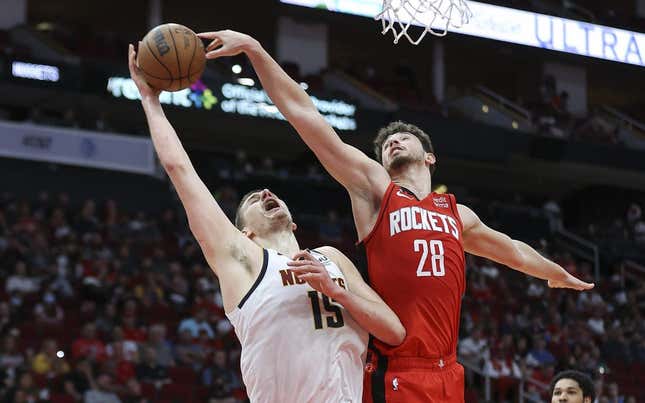 The Denver Nuggets are on the verge of something new for the franchise, and it can be accomplished as soon as Tuesday
Air Jordans are more American than McDonald's French fries | Deon Cole's Ultimate Sports Fantasy
Denver (52-26) is one victory -- or a Memphis loss -- from clinching the top seed in the Western Conference, a position it has never achieved since joining the NBA in 1976. That can happen when it visits the Houston Rockets on Tuesday night
The Nuggets got to this point with an impressive win over the Golden State Warriors on Sunday night. It was their third straight game without star Nikola Jokic, who has been nursing calf tightness since last week, and it introduced Peyton Watson to the rest of the basketball world
Watson, a rookie out of UCLA, has been relegated to garbage time for most of the season but got a chance for real minutes Friday in Phoenix. He played well enough to earn more time Sunday night, and he was on the floor in the final minute of a 112-110 win over Golden State.
"I come to play every night with my hardhat on," Watson said after scoring eight points and blocking three shots Sunday. "I've been working all season for this. It's just good to see my work paying off. Yes, this is something that is replicable. I look forward to doing it when I get the opportunity again."
Watson had played 52 total minutes before Friday and has logged 47 in the past two games. If Denver can clinch the West against Houston, he could see even more court time in the final three games.
It could also give the Nuggets a chance to rest Jokic and the starters ahead of a playoff grind
The Rockets (19-60) are heading to a long offseason after Sunday, and the most impactful thing that will happen this spring is where they will fall in the lottery. Houston has the second worst record in the NBA -- Detroit is 16-62 -- and could get the coveted No. 1 pick if the lottery balls fall its way
But the players aren't worried about that; they're focusing on establishing themselves in the NBA. One example is when they faced Detroit on Friday night and rallied in the fourth quarter to beat the Pistons.
"We wanted (that) one bad, definitely," Kevin Porter Jr. said after that win.
It was just three years ago Houston was a contender and two years before that it was one win away from the NBA Finals, but things have changed quickly. The Rockets traded their stars and started on a rebuild, and it could get a boost if they do get the top pick and the chance to select French phenom Victor Wembanyama
Denver has a phenom in Jokic, but there are a lot of pieces around him that has the franchise excited for a title run. The Nuggets might be a little deeper after what rookies Watson and Christian Braun have shown lately
"We have a lot of young guys that showing up right now and getting themselves ready for playoffs and I think that's huge for us," Jamal Murray said.
--Field Level Media