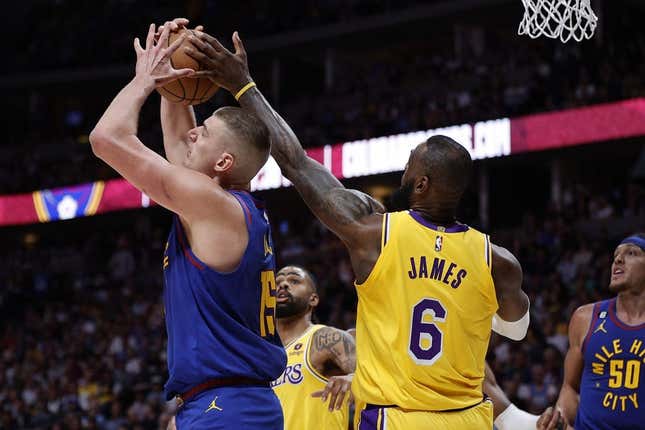 The Denver Nuggets tried to run the Lakers out of the arena early behind another big game from Nikola Jokic, but the experienced Los Angeles team didn't flinch -- and nearly stole Game 1 of the Western Conference finals
Chris Paul should ride the bench next season | Keep it a Buck(et)
The Nuggets built an 18-point halftime lead in front of their home crowd and were up by 21 in the third quarter but had to hold off a furious Los Angeles rally to pull out a 132-126 win on Tuesday night
Jokic had 34 points, 21 rebounds and 14 assists for his third straight triple-double, and teammate Jamal Murray scored 31 points despite battling an ear infection.
"The whole playoffs he is playing amazing," Jokic said jokingly of Murray. "Maybe he faked it, he doesn't want to practice just to get a couple of days off."
Kentavious Caldwell-Pope contributed 21 points, Bruce Brown had 16, Michael Porter Jr. added 15 points and 10 rebounds and Aaron Gordon finished with 12 points for the Nuggets
Game 2 of the best-of-seven series is Thursday night in Denver.
Anthony Davis had 40 points and 10 rebounds, LeBron James finished with 26 points, 12 rebounds and nine assists, Austin Reaves scored 23 points and Rui Hachimura put up 17 points for the Lakers, whose second-half rally came up short
"We'll go back and look at the film, see what we need to clean up," Los Angeles coach Darvin Ham said. "Take a good look at that second half, see what went well, try to sustain the good stuff and alleviate and repair the bad stuff."
The Lakers lost Game 1 for the first time this postseason
"It's the playoffs, we need to be aggressive, we need to win the game, especially in front of the home crowd," Jokic said. "They won two Game 1s."
Los Angeles chipped away at the large deficit, getting within three points three times in the final four minutes. Denver responded by scoring the next points each time.
The Lakers opened the fourth on an 8-2 run to pull within 108-100 with 10:10 left
Porter and Jeff Green hit corner 3-pointers and Murray scored on consecutive possessions to make it 118-104.
Los Angeles got within 124-118 with 3:53 left, and a Nuggets turnover led to a Reaves 3-pointer that made it a three-point game. Denver got the margin back to six, but another Reaves 3-pointer made it 127-124 with 2:18 left
James had a chance to tie with 45 seconds left but missed a 3-point attempt, and Jokic closed it out at the line.
"I think we did a good job of just making shots and weathering the storm," Murray said. "But that's why it's a series. Both teams will make adjustments."
Denver used a 36-13 edge in rebounding to take a 72-54 lead into halftime. Jokic had 12 rebounds in the first quarter and finished with 16 for the half to go along with 19 points and seven assists.
"It took us a half to get into the game, and that was pretty much the ballgame," James said.
Murray hit a pair of 3-pointers at the start of the third, giving the Nuggets a 78-58 lead. Jokic notched his triple-double when he fed Caldwell-Pope for a floating jumper midway through the third quarter. It is his 12th postseason triple-double, the most by a center in NBA history
Jokic put the Nuggets ahead 93-72 with a 3-pointer and fed Caldwell-Pope for another before Los Angeles closed the third strong. The Lakers went on a 16-7 run, but Jokic drained a 28-footer at the quarter buzzer to make it a 14-point game entering the fourth
--Field Level Media