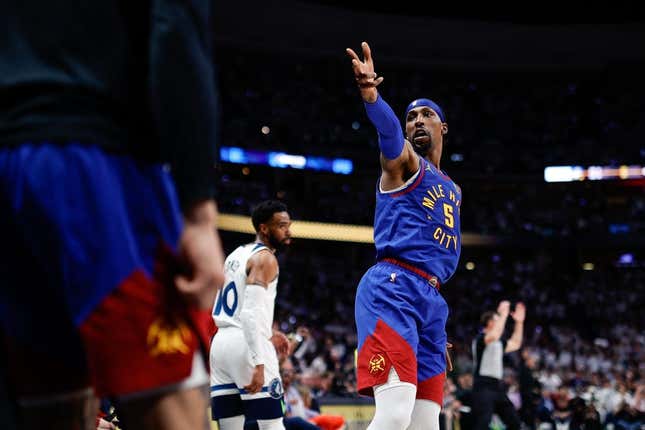 Jamal Murray had 24 points, eight rebounds and eight assists, Nikola Jokic finished with 13 points and 14 rebounds and the host Denver Nuggets routed the Minnesota Timberwolves 109-80 in Game 1 of their first-round Western Conference playoff series on Sunday night
Bass' ERA stinks, but not compared to who he is off the mound | Worst of the Week Countdown
Michael Porter Jr. had 18 points and 11 rebounds, Kentavious Caldwell-Pope scored 15 points, Bruce Brown added 14 points and Aaron Gordon had 13 points for the top-seeded Nuggets
Anthony Edwards scored 18 points, Karl-Anthony Towns had 11 points and 10 rebounds, Jaylen Nowell scored 12 points, Kyle Anderson added 11 and Rudy Gobert finished with 13 rebounds for Minnesota.
Game 2 is Wednesday night in Denver.
The Timberwolves rallied from an eight-point deficit to lead 19-18 late in the first quarter. The Nuggets went back in front and led 26-24 early in the second, and then put together an 11-3 run to go up by 10
Minnesota got within 45-40, but Denver finished the period strong and took a 55-44 lead into halftime.
The Nuggets capitalized on the Timberwolves' cold start to the second half. Gordon made four free throws, Caldwell-Pope hit a layup and Porter drained a long 3-pointer to make it 64-45
Anderson hit Minnesota's first field goal of the third quarter with 8:18 left, but Porter answered that 3-pointer with his third make of the night from deep.
The Timberwolves cut the deficit to 69-53, but Denver took control in the final 4:12 of the third
Gordon split a pair of free throws and hit a 3-pointer and Caldwell-Pope made a finger roll to put the Nuggets ahead 75-53. Austin Rivers briefly ended the outburst with a 3-pointer, but Brown and Caldwell-Pope each hit a trey and DeAndre Jordan dunked to make it 83-58
Things got physical when Anderson was called for a Flagrant 1 foul on Christian Braun with 35 seconds left in the period. Braun made one of the free-throw attempts and Murray nailed Denver's sixth 3-pointer of the quarter to make it 87-58 heading into the fourth.
The Nuggets went ahead by 32 early in the fourth and easily closed it out
--Field Level Media