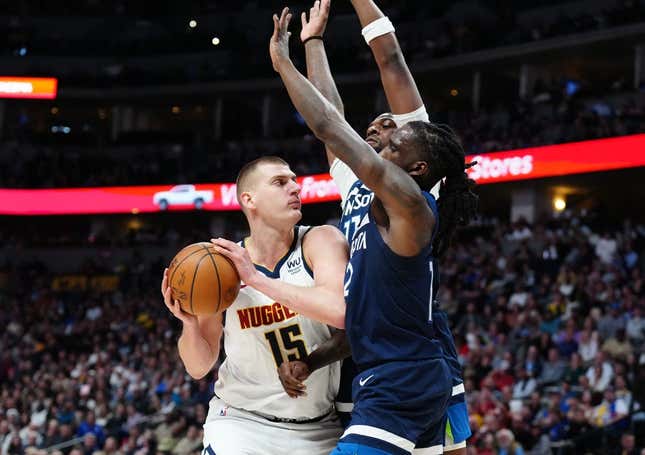 The Denver Nuggets are a No. 1 seed for the first time since joining the NBA, but the franchise knows the perils of being the Western Conference's top team
Aaron Rodgers should go full Joe Namath | Comedian Bert Kreischer
Denver became the first No. 8 seed to win a series when it upset the Seattle SuperSonics in 1994. The Nuggets were playing without pressure that season, but they have to face the burden of expectations in 2023
They will start dealing with those expectations when they host the Minnesota Timberwolves in Game 1 of their first-round playoff series on Sunday night
Minnesota grabbed the No. 8 seed with a blowout win over Oklahoma City on Friday night and will play after a day of rest.
The franchises have met in the postseason once, in 2004, when the Timberwolves, the No. 1 seed, beat the eighth-seeded Nuggets in five games. The roles are reversed this time, but Minnesota is confident
"To be honest, I don't consider ourselves as an eight seed," Wolves center Rudy Gobert said after Friday's win. "We are in the standings, but I don't consider us an eight seed. Now, it's an amazing opportunity for us to keep getting better as a team. It's a huge challenge for us."
The teams split four games in the regular season, with each winning on its home court, but there were caveats to those games. The Timberwolves didn't have Karl-Anthony Towns available in any of the four games, but he is healthy for this series, and now veteran point guard Mike Conley is in the rotation after coming over in a trade-deadline deal
And for Denver, which was missing pieces when the teams met, three of those four contests were the second game of a back-to-back.
The Nuggets' hopes for a deep postseason run will come down to health. MVP candidate Nikola Jokic missed several games down the stretch with a tight calf but says he is fine
Point guard Jamal Murray is dealing with a thumb injury on his right (shooting) hand. He is listed as day-to-day but should be in the lineup.
The top players in this series could cancel each other out, so it would be up to secondary players to decide the outcome. For Denver, that means Michael Porter Jr. and Aaron Gordon playing key roles.
Gordon will likely draw Towns as a defensive assignment while the Nuggets will count on Porter's ability to hit shots. Denver coach Michael Malone has encouraged Porter to "let it fly" when he has an open look, which is bound to happen with Jokic orchestrating from the middle and drawing double teams
Mostly, the Nuggets have to be ready against a familiar opponent
"I think honestly, everyone in the league is so good right now, everyone's an upset candidate," Porter said. "You can't take any team lightly. You look across the board, no one knows who's going to win any of these series. So I think it's just about who prepares the most. We have faith in ourselves, we have confidence in ourselves, and we just got to go out there and execute."
--Field Level Media