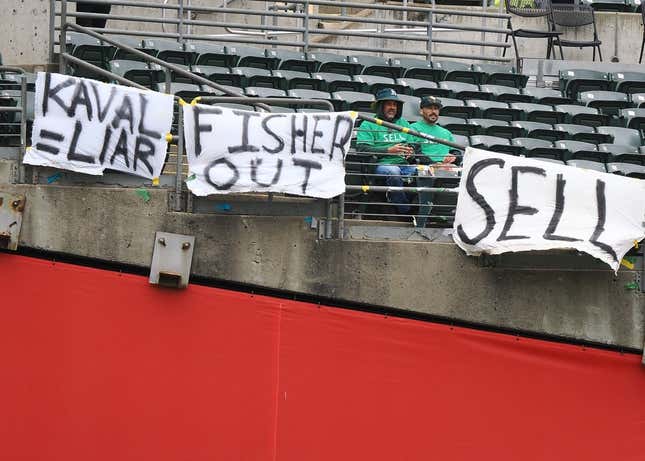 The Tampa Bay Rays and Oakland Athletics expect to be greeted by something unusual for each team -- a big crowd -- when the clubs continue their four-game series on Tuesday night in Oakland amid what A's fans are calling a "reverse boycott.
How running an NFL team is like running a restaurant | Chef Emeril Lagasse
With just 4,848 fans on hand Monday night, the A's rode the strong pitching of James Kaprielian and Ken Waldichuk, a three-run double by Shea Langeliers and the momentum of a strong road trip to a sixth straight triumph, taking their homestand opener 4-3.
The win was just the 18th of the season for the A's, who have struggled with one of baseball's lowest payrolls as team management explores a possible move to Las Vegas.
The "reverse boycott" is designed to fill the Oakland Coliseum and demonstrate to team owner John Fisher that he -- not the site nor the fan base -- is the reason the club has slumped to the bottom of the standings and the attendance chart this season.
Event organizers hope the game attracts the Athletics' biggest home crowd of the season, topping the 26,805 that showed up to see Shohei Ohtani and the Los Angeles Angels on Opening Day
The A's are averaging 8,555 -- the fewest in the majors by more than 3,000 a game.
Tampa Bay, which has the best record in baseball but also plays in an antiquated stadium, ranks just 27th in home attendance at 17,186.
Losingest team or not, A's manager Mark Kotsay sees his guys forming an identity.
"Who knows if we can keep it going? But right now we're going to ride the wave," he said after Monday's win. "The road trip was great. When we play good, clean, fundamental baseball and execute offensively, then good things can happen. We're seeing the results in the last six games. We're gaining confidence."
Left-hander Hogan Harris (1-0, 6.46 ERA) will go for his second consecutive win when he gets the call for the A's on Tuesday.
The 26-year-old rookie has pitched exactly five innings in each of his past three outings, allowing no more than three runs in any of those contests. He finally was rewarded with his first big-league win when he limited the Pittsburgh Pirates to three runs in five innings during a 9-5 victory on Wednesday.
He has never faced the Rays
Harris can expect to see Wander Franco in the Tampa Bay starting lineup after the slugging shortstop was given a partial rest on Monday.
Franco played all seven Rays games last week, recording two hits twice, including Sunday against the Texas Rangers, which allowed him to push his batting average to .296. He came off the bench on Monday and went 0-for-2
"A big part of our success is that he's been on the field a lot this year," Rays manager Kevin Cash said in explaining the decision to leave Franco out of the starting lineup. "We're going to do everything to keep it that way.
Franco hit two homers and had a hit in all three games when the Rays swept the A's 9-5, 11-0 and 11-0 in an early-April series at St. Petersburg, Fla. He now has eight homers for the season
Tampa Bay, which has won eight of its past 10 games, is expected to use left-hander Jalen Beeks as its opener on Tuesday. Beeks (2-3, 6.12) is 0-1 with an 18.00 ERA in three appearances this month, all in relief. In his career against Oakland, he has no decisions and a 2.25 ERA in three relief outings. He did not face the A's during the teams' April series.
--Field Level Media