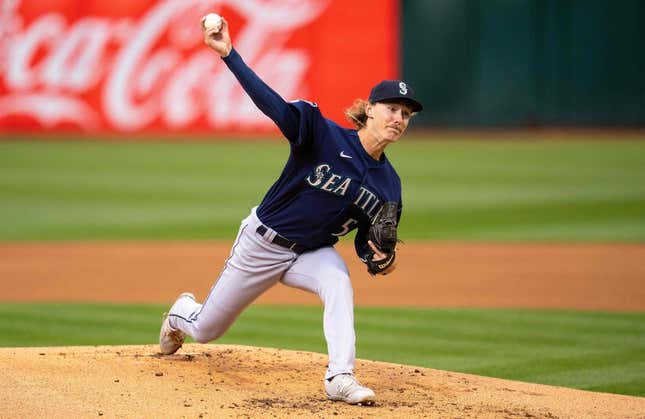 A pair of right-handers who began the season in the minors will start in Detroit on Saturday afternoon.
Bass' ERA stinks, but not compared to who he is off the mound | Worst of the Week Countdown
Bryce Miller will make his third career start for Seattle. Alex Faedo will make his second start this season for the Tigers
Miller was elevated from Double-A Arkansas after four minor league starts. He retired the first 16 batters he faced in his major league debut against Oakland on May 2. He wound up pitching six innings, allowing one run and two hits and striking out 10.
He recorded his first career win Sunday against Houston, holding the Astros scoreless for six innings. Houston only managed two hits and a walk against the 24-year-old.
Miller relied upon his fastball, which he threw 60 times out of 85 pitches.
"I'll have the offspeed whenever I need it, but right now, it's just kind of prove that they can hit it before I stray away from it," Miller said of his fastball. "And it was working."
With Robbie Ray undergoing season-ending Tommy John surgery, Miller has given the staff and the team in general a huge lift.
"He threw a lot of really good fastballs on the inside part of the plate," manager Scott Servais said. "You see that from veteran pitchers who are comfortable pitching inside. But he has no problem getting that in there. What that does is it widens out the plate and makes it that much easier as you go through the lineup a second, third time. I think the sky's the limit for this guy."
After being recalled from Triple-A Toledo, Faedo gave up a pair of solo home runs to Paul Goldschmidt in 4 2/3 innings at St. Louis on Sunday. Faedo made 12 starts for the Tigers last season, going 1-5 with a 5.53 ERA
"It was good to be back," he said. "I came out of the game and the team had a chance to win. I didn't have strikeout stuff (Sunday) but I found a way to get some outs."
The Tigers' staff didn't have a lot of success getting outs in the series opener on Friday night. Seattle star center fielder Julio Rodriguez, who had been mired in an extended slump, busted out with a four-RBI night in a 9-2 Mariners victory
Rodriguez delivered a two-run homer and a two-run single among three hits. He had just three hits all month coming into the contest.
Detroit had won seven of its previous nine contests.
Rodriguez's run-scoring single highlighted a five-run second inning as the Mariners knocked out Detroit starter Matthew Boyd after he recorded just four outs. Boyd, who pitched in relief for Seattle last season, issued four walks as Seattle grabbed an early 6-0 lead
"I just fell out of rhythm. It hasn't happened in a very long time," Boyd said. "Why it happened? I don't really know. The adjustments I was making just weren't enough."
Seattle's victory kicked off a nine-game road trip. The Mariners won't return home until May 22. Detroit began a five-game homestand
--Field Level Media