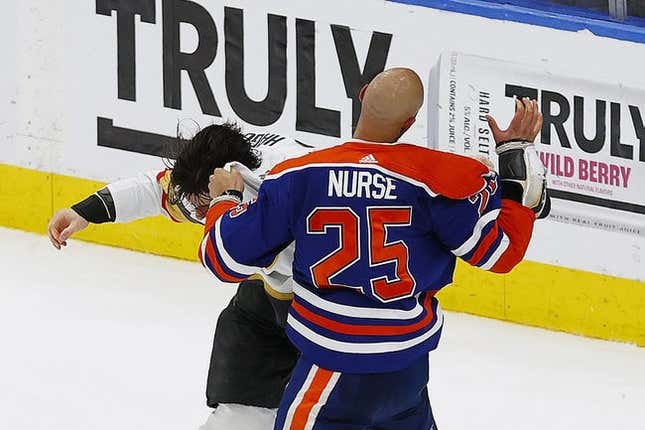 Edmonton Oilers defenseman Darnell Nurse received an automatic one-game suspension Thursday for instigating a fight during the final five minutes of regulation in Wednesday's Game 4 of the Western Conference second-round series versus the Vegas Golden Knights
Chris Paul should ride the bench next season | Keep it a Buck(et)
Nurse's bout with Golden Knights defenseman Nicolas Hague also resulted in a $10,000 fine for Oilers head coach Jay Woodcroft
Per Rule 46.21 in the NHL rulebook, "a player who is deemed to be the instigator of an altercation in the final 5 minutes shall be suspended for 1 game, pending a review of the incident. When the suspension is imposed, the Coach shall be fined $10,000."
Nurse was assessed a minor penalty for instigating, a major penalty for fighting and a 10-minute misconduct with 50 seconds remaining of the third period in Edmonton's 4-1 victory. The Oilers evened the best-of-seven series at two wins apiece heading into Friday's Game 5 in Las Vegas
Nurse, 28, has recorded four assists in 10 playoff games this spring.
Philip Broberg, who was a healthy scratch on Wednesday, may draw back into the lineup in place of Nurse.
--Field Level Media