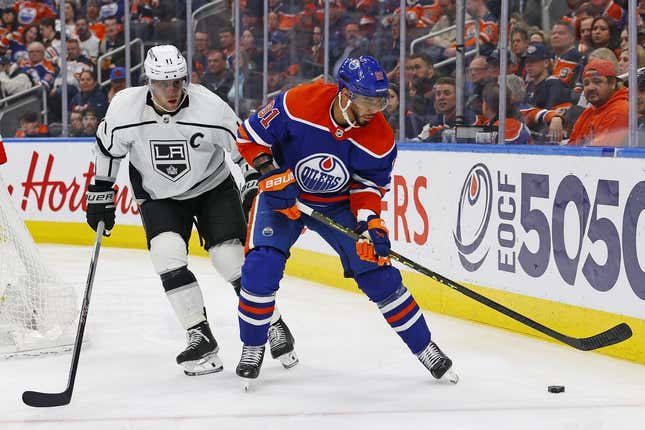 The Edmonton Oilers and Los Angeles Kings clinched Stanley Cup playoff spots with their most recent victories
Now, it's all about positioning.
When the Oilers visit the Kings on Tuesday night, second place in the Pacific Division will be on the line, and potentially first place as well
Edmonton (45-23-9, 99 points) enters the game in third place, one point behind Los Angeles (45-22-10, 100 points) with five games left for both teams.
Sitting on top of the division are the Vegas Golden Knights, who brought a one-point lead over the Kings into their game against the Minnesota Wild on Monday night
"The regular season is all about giving yourself a chance to play in the playoffs, and we checked that box," Edmonton star Connor McDavid said after scoring his league-leading 62nd goal of the season in a 6-0 win against the visiting Anaheim Ducks on Saturday night.
The Oilers, known for their offensive explosiveness, have won their past two games via shutout. Edmonton beat the visiting Kings 2-0 on Thursday night
All three teams atop the Pacific Division played extremely well in March. The Oilers went 12-2-1, the Kings went 9-2-2 and the Golden Knights finished 11-3-1. The three teams were a combined 4-0 through the first two days of April as well
"Every night, it seems like everyone wins in the Pacific Division," Oilers coach Jay Woodcroft said
The two best players for Edmonton have never really cooled down this season, but Leon Draisaitl and McDavid are playing exceptionally well as of late.
Draisaitl has a 12-game point streak (nine goals, 15 assists), and McDavid has an 11-game point streak (eight goals, 14 assists).
Meanwhile, the Kings have been quietly stringing together one of their best regular seasons in team history
They reached triple-digit points with a 4-1 win at the Vancouver Canucks on Sunday night. Only the 1974-75 team reached triple digits quicker (76 games).
Locking down a playoff spot for a second consecutive season also took some weight off the shoulders of Kings coach Todd McLellan, who earned his 139th win with Los Angeles on Sunday night, tying Terry Murray for the fourth most in franchise history
"I don't want to say (qualifying for the playoffs is) a relief, because we've sensed that it's been coming, but once you get that asterisk by your name you can breathe a little bit," McLellan said. "That's a hell of an accomplishment for our group."
Los Angeles has been receiving contributions from a variety of sources throughout the season. One player who has stood out lately is forward Alex Iafallo, who has delivered back-to-back multi-point performances.
"He's a very valuable player for us. Very trusting, a guy that you can put anywhere in the lineup, on any line," McLellan said. "He cleans up a lot of messes and mistakes that are made, he anticipates well defensively and he can obviously put it in the net when he gets a chance."
Anze Kopitar produced two assists against Vancouver for his 20th multi-point game of the season and 281st of his career, tying Dave Taylor for fourth most in franchise history.
Los Angeles could be down a key defenseman, as Alex Edler departed late in the first period against the Canucks with an upper-body injury and did not return.
McLellan did not have an update following the game and the Kings did not practice on Monday
"He couldn't finish the night, so that wasn't good," McLellan said.
--Field Level Media