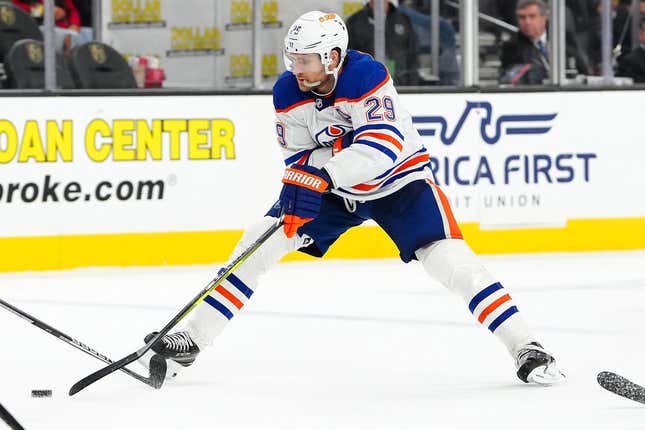 The Edmonton Oilers can move to within one point of the idle first-place Vegas Golden Knights in the Pacific Division with a victory on Wednesday night when they finish a Southern California back-to-back against the Anaheim Ducks
Edmonton (46-23-9, 101 points) moved into second place and hold home-ice advantage for the first round of the Stanley Cup Playoffs with a 3-1 victory at Los Angeles on Tuesday. It was the fifth straight win for the Oilers, who also extended their point streak to 11 games (10-0-1)
Edmonton, Vegas (48-22-8, 104 points) and the Kings (45-23-10, 100 points) are all still in a dogfight for first place in the Pacific with four games to go. The Golden Knights host Los Angeles on Thursday in Las Vegas and also still have difficult road contests at Dallas and Seattle on their schedule as well as a home game against the Kraken.
The Oilers, who own the regulation wins tiebreaker against both Vegas and Los Angeles, on paper would seem to have the easier remaining schedule. Aside from Wednesday's game at Anaheim, they play a home-and-home against seventh place San Jose and a road contest at Colorado, while the Kings also have games with the Avalanche and Vancouver before ending the season at Anaheim
Edmonton's Leon Draisaitl scored his 51st goal of the season to go along with two assists and Ryan Nugent-Hopkins had a goal and an assist in Tuesday's win.
"It's great," Draisaitl, who leads the league with 31 power-play goals, said when asked how the vibe was in the Oilers' locker room. "We're excited for the playoffs. We've put a lot of work in over the year. Now the fun starts. Very excited. Got a really tight group in there. Love playing for each other.
The game with the Kings had a playoff feel to it. The tight-checking, physical contest featured just five total shots in the first period.
"It was a patient game and not a lot of room on the ice," Edmonton coach Jay Woodcroft said. "Very well-played game by both teams. We found a way to win, which is a good sign for our group. ... Now we have to rest up and get ready for Anaheim."
The Ducks (23-44-10, 56 points) have lost eight in a row and are tied with Columbus and Chicago for fewest points in the league and the best lottery chance to land presumptive No. 1 draft pick Connor Bedard
Anaheim comes in off a 5-4 loss at Calgary on Sunday with Michael Stone scoring the game-winner for the Flames with just 2:38 remaining. Frank Vatrano had two goals and an assist and Trevor Zegras notched his 60th point of the season with a first period assist for the Ducks
"I thought it was a really great effort by the group," Anaheim coach Dallas Eakins said. "Back-to-back games for us and just an absolutely desperate team over there fighting for a playoff spot. Heartbreaker."
This will be the fourth and final meeting between the two teams. Anaheim won the first one, 4-3, on Dec. 17 at Edmonton but the Oilers have won the last two, 6-2, on Jan. 11 at Anaheim and 6-0 on Saturday in Edmonton
--Field Level Media