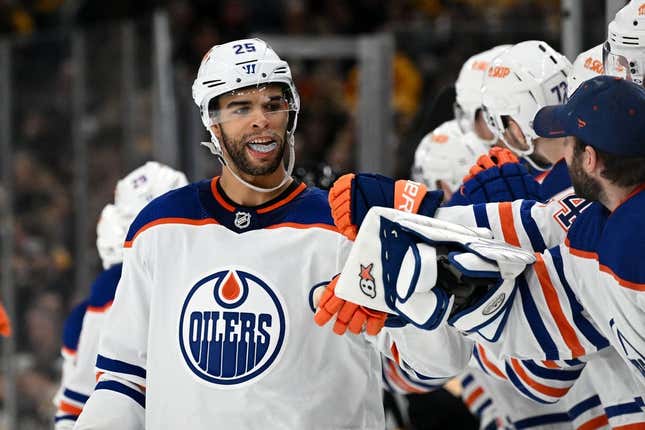 After a comeback victory over the Boston Bruins, the Edmonton Oilers aim to double down Saturday night against the host Toronto Maple Leafs to complete a four-game trip.
Is Texas or Florida State a bigger national title contender? | Agree to Disagree
The Oilers have won four of five starting with a 5-2 home victory over the Maple Leafs on March 1 and are 2-1-0 on their trip.
They will be buoyed by their 3-2 victory over the Bruins, who have the league's best record and were on a 10-game winning streak, after trailing 2-0.
"I really liked how we came out of the gate (Thursday), I thought we controlled the first few minutes of the game," Edmonton coach Jay Woodcroft told Oilers TV. "I thought we were able to roll line after line and be able to come at that team in waves.
"We found ourselves down 1-0, and we're aware of what their record is after leading after the first period, but we felt we were doing a lot of really good things out there, and we just needed to find that first goal to cut it in half. Our guys got it done in the third period and found a way against a really good team."
Evan Bouchard, Ryan McLeod and Darnell Nurse scored for the Oilers. Stuart Skinner made 26 saves.
"We have confidence in our group; we said (Thursday) morning we think we can play with anyone in this league," said Nurse, who scored the winning goal at 15:11 of the third period. "It's one thing to say it and it's another to go out there and do it, and we did it."
Connor McDavid, who has a league-leading 54 goals, struggled to reach the bench after colliding with teammate Derel Ryan soon after Nurse's goal. He returned to help hold off the Bruins.
Woodcroft said he did not see the incident. "But (McDavid) felt good enough to finish the game, so I felt good about that," Woodcroft said.
"When we play the right way, when we do the right things, when we're dialed into our details, we can play with anyone." McDavid said Friday after Edmonton's practice in Toronto.
Toronto completed a 3-2-0 trip Tuesday with a comeback 4-3 victory over the New Jersey Devils.
Michael Bunting tied the game with his 20th goal at 15:10 of the third period and Auston Matthews scored his 29th on a power play at 17:07.
The Maple Leafs are in the process of sorting out their defense after Luke Schenn, Jake McCabe and Erik Gustafsson were added in deals before the trade deadline.
"Our team is deeper on defense than it was prior to the deadline," Toronto coach Sheldon Keefe said. "The standard is higher in terms of staying in and competing. When they're in, they've got to do a really good job because other guys want to play, too."
"All of the new guys have looked really good," defenseman Justin Holl said. "It gives us a lot of options."
"I wouldn't say it's training camp," defenseman Timothy Liljegren said. "But, for sure, a lot of new guys have to get acclimated, new pairings. It takes a while to get chemistry. I think they've fit into our group right away. I think it's going to be good down the stretch."
Schenn did not play Tuesday and was not with the team Friday because he is in Vancouver where his wife is expecting a child.
--Field Level Media