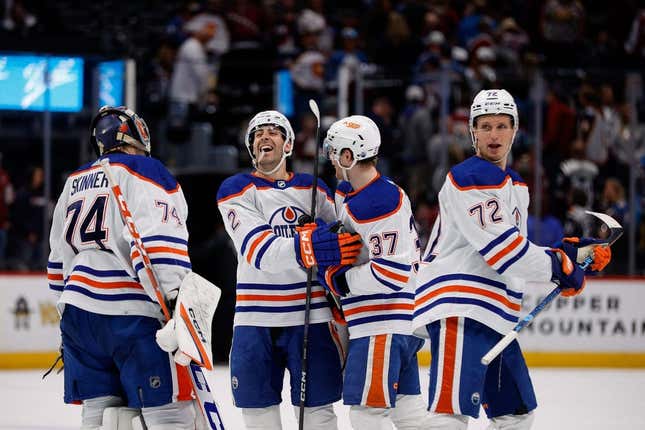 The Edmonton Oilers enter their final regular-season game Thursday night against the visiting San Jose Sharks with a chance to claim the Pacific Division title as well as the top seed in the Western Conference for the Stanley Cup playoffs
'Soccer fandom is full of gatekeepers' says Ted Lasso actor Brendan Hunt
The Oilers (49-23-9, 107 points) need a win over the Sharks (22-43-16, 60 points) and a regulation loss by the Vegas Golden Knights (50-22-9, 109 points) at Seattle, also on Thursday night, to claim the top spot
That scenario would leave Edmonton and Vegas tied at 109 points, and the Oilers own the regulation-wins tiebreaker by a large margin, 44-37
The Colorado Avalanche (49-24-7, 105 points), who host the Winnipeg Jets on Thursday and visit the Nashville Predators on Friday, also could finish with 109 points in the Western Conference. However, Edmonton has a 44-34 edge over Colorado in regulation wins.
Adding some intrigue to Thursday's action is the fact that the San Jose-Edmonton contest starts 90 minutes before the Vegas-Seattle game. An Oilers win figures to put a little more pressure on the Golden Knights, who are 2-1-0 against the Kraken this season, including a 4-1 victory on Tuesday in Las Vegas
Got all that?
One thing for certain is that the Oilers are smoking hot entering the game against San Jose, having won eight in a row and gone 13-0-1 over their past 14 games. They allowed a total of just four goals in their past six victories
Edmonton kept its division-title hopes alive with a 2-1 overtime win over the defending Stanley Cup champion Avalanche on Tuesday night in Denver. Defenseman Evan Bouchard scored the winner 1:50 into overtime with a shot from just inside the right faceoff circle off a pass from Connor McDavid.
"In the end, we found the key play at the right moment," Oilers coach Jay Woodcroft said. "We've got one (game) left and we're pushing to finish as high as we possibly can
"We came into this building against the Stanley Cup champs and this is how we expected to play, and we went out and executed. We'll enjoy it for a little bit and get on the plane, travel well and rest up to get ready for San Jose in the last game of the year."
Defenseman Mattias Ekholm, acquired just before the trade deadline from Nashville, also scored for the Oilers, who are 17-2-1 in their past 20 games
Ekholm was asked about the importance of still winning a division and conference title at the wire.
"It obviously matters a little bit, but it's not a huge deal," Ekholm said. "I think home ice in the first round is the biggest key. ... We're just focusing on playing as good as we can heading into the postseason."
Edmonton is 3-0-0 against the Sharks this season, having outscored them 18-6 in the process. The Oilers, behind two goals and an assist from McDavid and two assists and a goal from Ryan Nugent-Hopkins, breezed to a 6-1 win at San Jose on Saturday in the latest meeting
The Sharks bring a five-game losing streak (0-4-1) into their finale. They will be playing the second half of a back-to-back set that began with a 3-1 loss at Calgary on Wednesday
The three-game road trip through Canada started with a 6-2 loss at Winnipeg on Monday. Defenseman Erik Karlsson, one of the team's few bright spots this season, scored both goals to get to the 100-point mark, the first defenseman to accomplish that feat since Brian Leetch of the New York Rangers in 1991-92.
"I've been very lucky to coach some great hockey players, but none greater than him, I'll tell you that," San Jose coach David Quinn said. "This guy has so much talent and so much skill. He's a brilliant hockey player, but he's also got the physical attributes to match. His physical gifts and his mental skills all work together.
"He's competitive. He's fearless. He's just got world-class talent and he's healthy. ... It's been a lot of fun to watch."
--Field Level Media