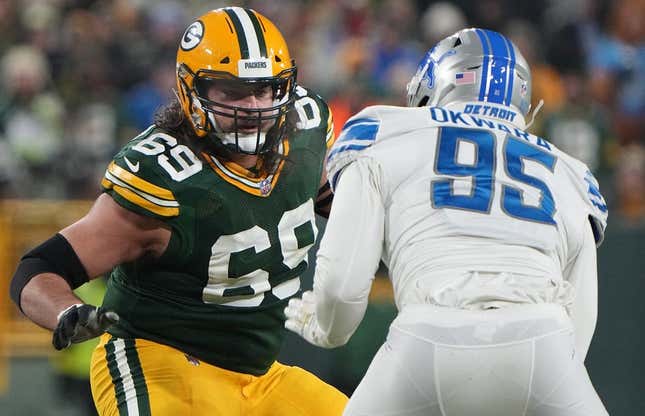 Edge rusher Romeo Okwara agreed to take a $9 million pay cut in a restructured deal to remain with the Detroit Lions, multiple outlets reported Monday.
Aaron Rodgers should go full Joe Namath | Comedian Bert Kreischer
Okwara missed most of the 2022 season recovering from a torn Achilles. He's played in just nine games (four starts) the past two seasons.
Okwara, 27, agreed to a base salary of $2 million for 2023, down from $11 million. It reduces the Lions' cap hit from $14.5 million to $5.65 million. The Lions would have saved $7.5 million against the cap by cutting Okwara.
Okwara returned for the final five games of the 2022 season and recorded two sacks.
He has 23 career sacks in 76 games (32 starts) with the New York Giants (2016-17) and Lions.
Also Monday, the Lions announced they re-signed safety C.J. Moore to a two-year contract extension and offensive lineman Graham Glasgow to a free agent deal.
Moore, 27, is mostly a special teams player for the Lions. He'll enter his fifth season with the team in 2023.
The Lions didn't announce contract terms for Glasgow, who returns to the team after three seasons with the Broncos. He spent his first four NFL seasons with Detroit after the Lions selected him in the third round of the 2016 NFL Draft. The 30-year-old has appeared in 99 games (91 starts) and played 82 percent of the snaps for Denver last season.
--Field Level Media