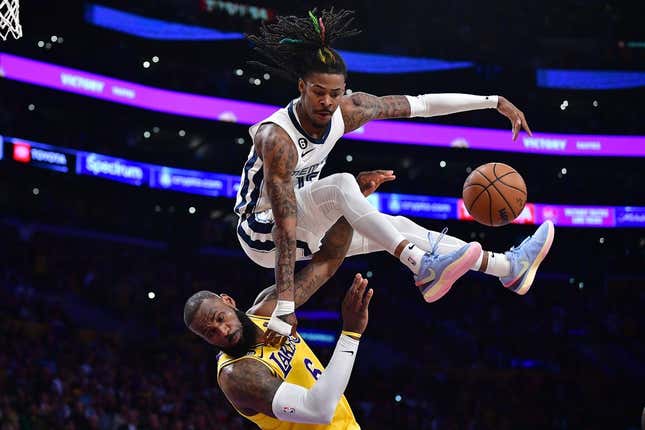 That ancient, not-as-good version of LeBron James has the Los Angeles Lakers one win away from a first-round upset of the Memphis Grizzlies
Aaron Rodgers should go full Joe Namath | Comedian Bert Kreischer
Dillon Brooks' talking, not to mention hitting below the belt, has done nothing but spur the 38-year-old James to greater heights. He looks to help the Lakers finish off the Western Conference series when they visit the Grizzlies in Game 5 on Wednesday night
The Lakers' 3-1 series lead was achieved with a 117-111 overtime home win on Monday night and placed second-seeded Memphis on the brink of elimination. The Grizzlies were on the verge of evening the series before James scored the tying basket with 0.8 seconds left in regulation
James had 22 points and 20 rebounds for the first 20-20 outing of his 19-year NBA career. He also had seven assists and two blocked shots for the seventh-seeded Lakers
"I've done some pretty cool things in my career. I've never had 20 and 20 before," James said. "So, that's pretty cool, I guess."
Brooks agitated James with his comments after Game 2, terming the four-time MVP as "old" and insisting his level of play has significantly dropped.
James didn't respond publicly but has done so with his play during a series that has become increasingly tense.
"All of the phenomenal things he's accomplished, he still has that passion, that grit to want to be on top and to want to put his team in a position in the right way to be able to be successful," Lakers coach Darvin Ham said. "And that's what you saw.
James is averaging 24 points, 13 rebounds, five assists and 1.8 blocks during the series. His lowest scoring output is 21.
Memphis will look to respond in front of its home fans, but it will be hard to forget leading Game 4 by seven with 5:13 left in regulation and not completing the deal.
After being one defensive stop away from evening the series, the Grizzlies lacked pizzazz in the extra session
"At this point in the season, it's win or go home, so we got to regroup," Memphis backup point guard Tyus Jones said. "Can't feel sorry for ourselves. Can be frustrated, but at the same time, you got to fix it."
Guard Desmond Bane indicated that the Grizzlies made a defensive mistake on James' tying basket
"LeBron's been a strong right-hand driver since he came into the league 20 years ago or however long he's been in the league," said Bane, who scored 36 points. "He gets to his right hand, and we got two guys on that side that are supposed to be in help and we didn't execute.
"It's pretty much as simple as that. Game-plan discipline -- we need it for 48 minutes, and it let us down."
Bane and Brooks were the two defenders in the area who didn't provide help for Xavier Tillman.
Brooks, the self-described poker of bears, is averaging 11.3 points in the series and shooting 33.3 percent from the field and 22.2 percent from 3-point range. He was ejected from Game 3 for poking James in the groin.
After Game 4, Brooks departed the scene without handling his mandatory postgame media responsibilities. Star point guard Ja Morant, who had 19 points while aggravating his right hand injury, also skipped out.
Just hours earlier, Memphis coach Tyler Jenkins mentioned that some of his young players need to grow up.
"We're far from where we need to be from a maturity standpoint," Jenkins said. "This is all experience that you can only gain from. So, nothing's gonna change overnight, but when we wear it, and we understand the struggles we're going through individually, collectively, on, off the court and all that stuff, and we sit down and we honestly talk about it, and we face it, you're hopefully gonna turn the corner for sure."
That corner needs to be turned quickly as the Grizzlies are one loss away from being eliminated by the "old" guy
--Field Level Media