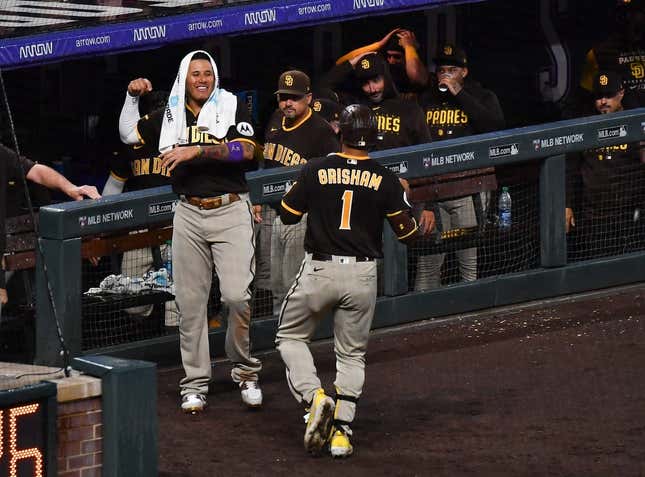 The Los Angeles Dodgers are back in their usual place atop the National League West. And while the San Diego Padres are still in fourth place in the division, they are showing signs of being alive in the wild-card race
Is Texas or Florida State a bigger national title contender? | Agree to Disagree
The two teams will collide in San Diego for four games beginning Friday night
San Diego is 10-5 over its past 15 games, but somehow, things often go south for the Padres when they face the team from a bit north up the freeway
The Padres haven't won a season series from the Dodgers since 2010. And last year, the Padres were 5-14 in the regular season against the Dodgers -- before stunningly and unceremoniously ousting Los Angeles from the playoffs, winning three of four in the National League Division Series
Padres fans were still celebrating that accomplishment during the first month of the 2023 series, the emotions growing when San Diego won its first meeting of the season on May 5
Since then, the Dodgers are 5-1 against the Padres, outscoring them 19-7
When the Padres beat Los Angeles in May, they improved to a season-best three games over .500. Going into the second series of the season against the Dodgers a week later, the Padres were still at .500. Then, Los Angeles swept the Padres, who haven't touched .500 since
Now the Padres (54-55) have a chance to finally get even again almost three months later. Opportunity is knocking for the Padres, who still are waiting to put together a long winning streak
They haven't won more than three straight all season, and now would be a great time to change that as San Diego stands four games out in the NL wild-card race and nine behind the Dodgers in the division
The players haven't given up
"We've had some bumps on the road," third baseman Manny Machado said. "We all know that. There's a light at the end of the tunnel. So everyone in here knows that we have a goal to reach. And we're gonna continue to do that.
The series will open Friday night with veteran Yu Darvish (8-7, 4.53 ERA) starting for the Padres against Dodgers rookie Bobby Miller (6-2, 4.37 ERA) in a match of right-handers. Darvish is coming off one of his strongest outings of the season while Miller struggled in his most recent game
On Saturday, Darvish shut down the explosive Rangers on three hits and two walks with nine strikeouts in six innings, tying up the Texas hitters with a plethora of splitters
A day earlier, Miller struggled to get out of the three-run first against Cincinnati at Dodger Stadium. He finished allowing just those three runs on six hits in five innings but took the loss in a 6-5 game
"I threw a couple bad two-strike pitches in the first," Miller said. "After the first, I was in control of that game. My curve started working, and that's my strikeout pitch.
The 24-year-old Miller -- the Dodgers' first-round pick (29th overall) in the 2020 draft -- has given up 27 runs in 36 2/3 innings in his last seven starts for a 6.63 ERA after posting an 0.78 ERA in his first four starts after being promoted from Triple-A Oklahoma City on May 23
Miller will face the Padres for the first time Friday
Meanwhile, Darvish will make his 12th career start against the Dodgers, and he's 4-5 with a 2.36 ERA vs. them. He was the winning pitcher in the only game the Padres won against the Dodgers this season, 5-2 on May 5, giving up two runs (one earned) on four hits and a walk with six strikeouts in 6 2/3 innings
--Field Level Medi