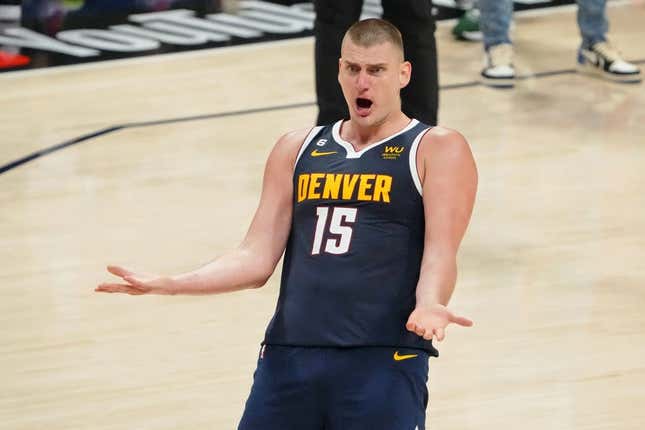 One victory away from the first NBA title in franchise history and the Denver Nuggets prefer to act as if the Finals have never started
How running an NFL team is like running a restaurant | Chef Emeril Lagasse
The Nuggets took a 3-1 lead in the best-of-seven championship series with a 108-95 road victory over the Miami Heat on Friday. The series shifts back to Denver for Game 5 on Monday and there are plenty of those who are anticipating a crowning achievement
Nuggets coach Michael Malone is not one of them
"Yeah, just understand that we haven't done anything," Malone said. "I told our guys, the first thing I said (after the Game 4 victory), 'We're not celebrating. It's a good win. We've done our job. But we're not celebrating like we've done anything yet.'"
Malone's plan over the weekend, in addition to figuring out how to get past the Heat one more time, was to have his players ignore all media -- social and otherwise -- and keep their minds on the task at hand as if it were still significantly out of reach
"Don't listen to everybody telling you how great you are because we haven't done a damn thing yet," Malone said. "We have to win another game to be world champions, and we're going to do that by simply taking it one quarter at a time.
"We stay true to our identity, we'll give ourselves a great chance to do that."
For everybody outside of the Nuggets' inner circle, there is plenty of evidence that their time is now. If not in Game 5 then in 6 or 7 during the coming days
The Nuggets' Nikola Jokic has nearly averaged a triple-double for the entire playoff run with 30.1 points, 13.3 rebounds and 9.8 assists. In the Finals he has scored 30.8 points with 13.5 rebounds and 8.0 assists
Aaron Gordon had what was perhaps his best game in a Nuggets uniform during Game 5 with 27 points on 11-of-15 shooting (3 of 4 from 3-point range)
Gordon also has kept Heat star Jimmy Butler in check on the defensive end. Butler has averaged 21.8 points per game in the series, although he has been more productive on the offensive end in the last two games. But as his scoring output has ticked up in the past two games, his rebound and assist numbers have dropped
The eighth-seeded team in the Eastern Conference doesn't seem to have enough offense to keep up with the Nuggets. All three of the Heat's defeats in the series have been by double digits, although they will take solace in the fact that their lone victory -- 111-108 in Game 2 -- came at Denver
"Same thing it's always been, it's one game at a time," Butler said. "Now we are in a must-win situation every single game, which we're capable of. Some correctible things we've got to do, but it's not impossible. We've got to go out there and do it. We've got three to get."
Bam Adebayo has averaged 22.3 points and 12.5 rebounds during the four games of the NBA Finals, up from his averages of 17.8 points and 9.8 rebounds in the playoffs. But Miami has been held to 95 points or fewer in all three defeats.
While the Heat's Tyler Herro appears close to returning from a hand injury that occurred in the opening game of the playoffs, the shooting guard still has not contributed to the cause, leaving 20.1 points per game from the regular season on the bench
"All we are going to focus on is getting this thing back to ... Miami and things can shift very quickly," Heat coach Erik Spoelstra said. "It's going to be a gnarly game in Denver that is built for the competitors that we have in our locker room.
--Field Level Media