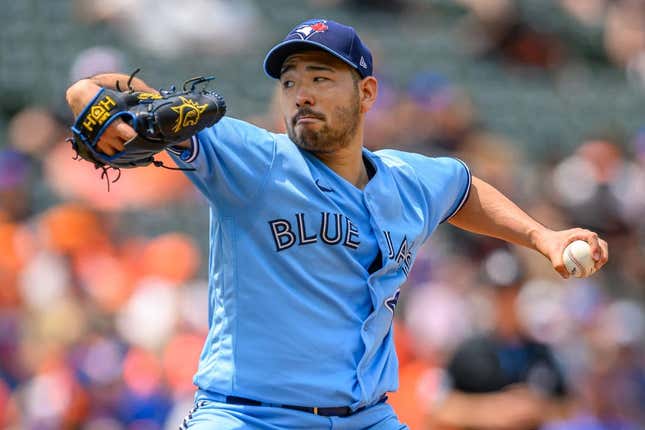 The visiting Boston Red Sox will try to continue their recent dominance over the Toronto Blue Jays and clinch their three-game series on Saturday afternoon
How running an NFL team is like running a restaurant | Chef Emeril Lagasse
The Red Sox defeated the Blue Jays 5-0 Friday night in the series opener
Left-hander James Paxton, a native of Ladner, British Columbia, pitched 7 2/3 innings and the Red Sox tagged Toronto right-hander Jose Berrios for three home runs
The Red Sox have won all five games matchups with Toronto this season, starting with a four-game sweep at Boston from May 1-4
The Blue Jays also continued to struggle against the American League East. They are 7-18 within their division this season and sit in fourth place
"I don't know why we don't play so well against the American League East," Berrios said.
Blue Jays manager John Schneider added, "There comes a point in time where you've got to look at who you're playing and say, 'OK, these games are a tick more important.
"It's not putting pressure on the guys, it's not trying harder or anything like that. But there comes a point in time, and we're probably there, where it's really important to win this series."
The Red Sox ended a season-high, five-game losing streak with their first shutout win of the season
"It was a good night," Boston manager Alex Cora said. "We did some good things. We needed this one."
The second game of the series will be played on Canada Day, which was not lost on Paxton.
"It was really fun," Paxton said. "I've got some friends in the stands tonight, a cousin. It was fun to be out pitching in Canada this close to Canada Day."
In 2018, when he was with the Seattle Mariners, Paxton pitched a no-hitter in Toronto. He became the first Canadian major-leaguer to throw a no-hitter in Canada.
The Red Sox are scheduled to start right-hander Kutter Crawford (2-4, 4.01 ERA) on Saturday. He is 0-1 with a 5.25 ERA in three career games, two starts, against Toronto
Crawford has moved between the bullpen and the rotation. He was shifted to a relief role after two starts this season when Garrett Whitlock returned from the injured list.
"Pitching is pitching. I wanted to start but you take the role they give you," said Crawford, who threw 1 1/3 scoreless relief innings against Toronto on May 3.
Crawford returned to the rotation in early June to take the place of injured left-hander Chris Sale. Crawford has since gone 1-2 with a 4.71 ERA in five starts.
"He's handled the back-and-forth very well," Red Sox pitching coach Dave Bush said on Friday. "He's gotten back into a routine and built up his innings. He can go as long as we need him.
The Blue Jays are scheduled to start left-hander Yusei Kikuchi (7-2, 3.75 ERA). In six career games (four starts) against Boston, he is 0-1 with a 5.32 ERA. The Red Sox pounded him for five runs on nine hits in 4 1/3 innings on May 2
Boston's Jarren Duran hit a two-run homer on Friday and supported Paxton with a superb catch at the center field wall in the first inning on a drive by Vladimir Guerrero Jr.
"It was nice to just watch (Paxton) cruise and do his thing, just kind of sit out there and watch," Duran said. "Sometimes I caught myself not paying attention because he was just grooving."
Cora added of Paxton's lengthy outing, "We needed something like this for the bullpen."
In five games against the Jays this season, Duran has gone 7-for-17 (.412) with two homers and five RBIs.
Toronto center fielder Kevin Kiermaier (back spasms) sat out his fourth consecutive game on Friday.
--Field Level Media