Because hockey people have the attention spans of goldfish, some have pronounced Drew Doughty the best player in the world. That he's the third or fourth to receive the honor since the playoffs started should tell you how much weight that carries.
Jokic? Embiid? The NBA MVP is obvious... right? | Keep it a Buck(et)
Doughty was excellent in Game 1 of this Stanley Cup Final. He scored a gorgeous goal, shaking free of the normally-tight Rangers coverage and finding space for himself with a high-skill play through his own legs before beating one of the league's best goaltenders short-side from in close. Wonderful stuff. He also ate huge minutes against the best offense the Rangers had to offer, taking on tough zone starts, and yet of the 16 shots that went on goal while he was on the ice, only four came from New York players.
Doughty has been doing this for a while now, and the last time people were talking about his overwhelming quality was the Olympics, when he was clearly the best player Canada brought to Sochi. But what Doughty did last week in Game 1 was pretty much par for the course. His corsi in the game was only one shot attempt above dead-even, and certainly, he has had better nights in these playoffs and throughout the course of the season.
It was more of the same in Game 2. Though he didn't score, he played a game-high 41:41, while no one else played more than 38. The puck was in the Rangers' zone more than the Kings' when he was on the ice, and so on. Again, he was great, but he's almost always great. This time, he happened to do it on the biggest stage.
G/O Media may get a commission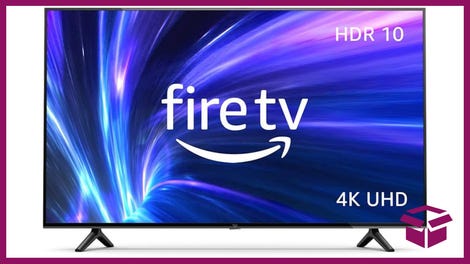 42% Off
Amazon Fire TV 50" 4K Smart TV
As such, the NHL media gushed all over him. Totally understandable, but the plaudits seemed more than a little bit overdone. "Kings' Drew Doughty looks like the best player in hockey," screamed the headline on another hyper-reactionary Steve Simmons column. Others joined in. David Staples of the Edmonton Journal said Doughty is "arguably" the best player in hockey. The Pittsburgh Tribue-Review's Rob Rossi, who covers Sidney Crosby and Evgeni Malkin for a living, asked, "Given the importance of D in #nhl and his big-game presence, would Doughty be 1st pick in a start-a-franchise draft?" Rob Tychkowski of the Edmonton Sun hit a similar note in saying, "Doughty. If you're starting a franchise from scratch, he's your first overall pick."
It's all very strange that this keeps happening, but in Doughty's case it seems to be particularly a function of observers who don't normally stay up for Kings games watching him play and saying, "Oh, yeah he's really great." It may have to do with the desire to peddle contrarian Hot Takes, to some extent, and the need to discuss something on days without games. But the hockey media has no apparent ability to discern between "really great" and "the best" at any given moment. When the actual best players in the sport are no longer in sight, they can no longer be considered in mind, either. Thus, on the unfortunate occasions that these opinions drop into the hockey world's consciousness, as they now have with Doughty, we have to have a conversation about, "Maybe he really IS the best."
What's funny about all the love suddenly heaped on Doughty is just how sudden it is. If Doughty is the best player on earth, at any position, then surely he would have won a Norris Trophy as the league's best defenseman by now, right? You can't give him the Hart because the MVP award is essentially for forwards only, so how many Norrises does Doughty have in a closet at home?
Zero. In a six-season career. The tricky part about making a claim that Doughty is the best — and one might be able to argue pretty successfully that at only 24 years old, he's just about the best defenseman in the league on a year-in, year-out basis — is that we can look up Norris voting logs. And the highest he's ever come in the voting is third, in 2009-10. Over the last four available years, not including the current season because final ballots haven't been released, Doughty's average place in the polls is about 11th. And we already know that for 2013-14 he's not in the top three. Which seems strange for the best player in the world.
We all know awards don't necessarily reflect skill. But it's telling that the newly minted "best player in the world" has never been considered by writers to be the best at his position in any given season out of six.
Here's John Buccigross, the only notable ESPN television personality who could speak with any authority on the subject of hockey, to relate why Doughty didn't make the cut for the Norris finalists this year: "Average regular season. Conn Smythe playoffs."
The idea that Doughty was average in the regular season is ludicrous, because he was at worst — depending on your personal stance — the fourth- or fifth-best in the league this year, behind some pretty incredible performances (those from the ageless Zdeno Chara, the put-upon Mark Giordano, and points-leader Erik Karlsson stand out as being particularly excellent). He is, however, a pretty worthy candidate for Conn Smythe as long as Henrik Lundqvist gets a lighter load the rest of the way, though I wouldn't count on that.
The NHL loves to kill its idols, and looks for any excuse to do so. There's no longer serious conversation in basketball over, "Is LeBron James the best player anymore?" each time Kevin Durant puts up 36 and 12. And yet in hockey, if Crosby has just one goal in 13 games in the postseason while playing for a weak and dying team, then he's clearly been surpassed.
Three weeks ago everyone agreed it was, in fact, Jonathan Toews who had become the best player in the world, according to Sportsnet's Mark Spector. And TSN's Steve Kouleas. And the Montreal Gazette's Jack Todd. And the Toronto Star's Paul Hunter and Kevin McGran. And Jeremy Roenick. And George Parros. The National Post's Michael Traikos wondered about it. Jeff O'Neill and Claude Noel debated the issue on TSN, and both agreed Toews was the guy. All it takes is a month and the title of "Best Player in the World" shifts from Sidney Crosby to Jonathan Toews to Henrik Lundqvist to Drew Doughty, based solely upon who's playing well (or playing at all) right now.
Poor Crosby. Constantly having to win back this crown with his annual 100-point performances that come like clockwork. In early 2012, Evgeni Malkin had apparently surpassed his teammate, but only after Crosby's second major concussion in about 14 months (and Crosby still had 103 points across just 63 games in those two seasons).
Around that same time, there were a few suggestions that it was Pavel Datsyuk, backed up by the results of an anonymous poll of 250 NHL players. Right about then, the Toronto Star's Damien Cox said Steven Stamkos was the best in the world as well.
A few months after that —when Crosby and Malkin's eight points apiece in six games weren't enough to prevent the Penguins being bounced from the playoffs by the Flyers because Marc-Andre Fleury (.834 save percentage) couldn't stop anything — Peter Laviolette suggested that it was now Claude Giroux who was the best player in the world. People took that position for a few days — until the Flyers bowed out to the Devils, with Giroux held to three points in five games. A perfectly great player year-in, year-out, Giroux remains a punchline for that pronouncement. Doughty doesn't deserve that kind of baggage.
Years before that, back in 2008, Alexander Semin floated that it was Patrick Kane who was the best player in the world, and not Crosby. To its credit, the hockey world had very little time for that suggestion.
Still, you shouldn't be able to come up with a list of eight or nine guys who have been anointed "the best" during a six-year period in which they were all supposedly knocking off the same person. At some point, you have to accept that the guy who's held the crown for so many years might actually deserve it.
It feels like whenever you start having a discussion of who's the best and who is merely great, everything gets fuzzy. If you point to stats — like Crosby's fourth all-time points-per-game — someone is going to tell you no. That there's more to it than that. If you point to the intangibles, others will say no. That everything of value is quantifiable in some way or another.
It pays to have a long memory in these situations, and to use common sense. Everyone knows Drew Doughty isn't the best player in the world. He's probably in the top 10 or 15, but he's not the best and probably never will be. He's just the best player of the 40 that are playing right this second. People remember only what happened as far back as the first game of the current round of the playoffs. That's why no one's talking about Toews just three weeks after his ascension to the throne: a quick and bloody abdication forced in large part by Doughty. Crosby is a distant memory.
No one stays the best forever, obviously. Time erodes all. But at the beginning of next season, the title will have reverted back to Crosby, as it does every single year. And people will have mostly forgotten that Doughty or Toews or Lundqvist ever took the title, however briefly. So before you're tempted to anoint a new king, consider how it'll sound a year from now. Superlatives given in haste don't look so great in the light of day.
---
Ryan Lambert is a columnist for Puck Daddy, among other places. His email is here and his Twitter is here.