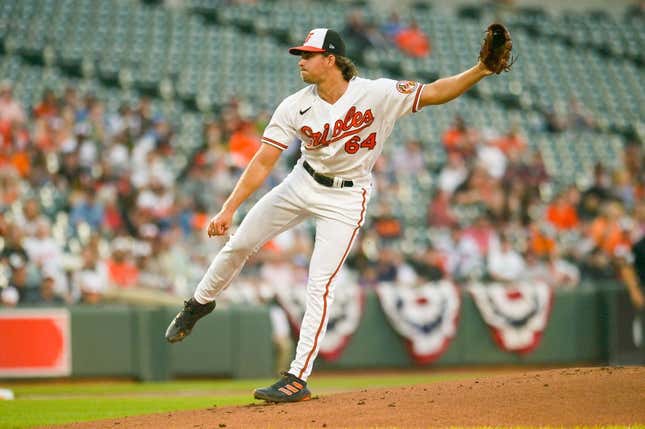 The Baltimore Orioles have set the bar pretty high in the first few weeks of the season
Are the Oakland A's a failed state? | Agree to Disagree
They share the second-best record in the American League. Yet from their perspective, this might just be the beginning.
"We have a lot of good players," Baltimore infielder Adam Frazier said. "Everybody wants to win. We're still coming together. It's a good start."
The Orioles carry a six-game winning streak into Monday night's game against the visiting Boston Red Sox. It's the opener of a three-game series
The Orioles have given up a total of just three runs across the last five games, most recently resulting in a three-game sweep of the Detroit Tigers to begin the homestand
Next up in the rotation is right-hander Dean Kremer (1-0, 6.16 ERA). He's coming off his best outing of the season, having pitched 6 2/3 shutout innings against the host Washington Nationals last Tuesday.
The season didn't begin so well for Kremer, who allowed five runs on six hits and a walk in three innings on April 1 at Boston. In six career starts versus the Red Sox, Kremer is 0-4 with a 7.76 ERA
Left-hander Chris Sale (1-1, 8.00) will start for the Red Sox. He opposed Kremer on April 1 and also struggled, surrendering seven runs on seven hits and two walks in three innings. He gave up three home runs
Sale also had his best outing of the season last Tuesday, going six innings and holding the Minnesota Twins to one run on three hits and two walks while striking out 11. Once one of the game's most dynamic pitchers, Sale has been slow to recover from Tommy John surgery and had only two big-league appearances in 2022.
"This is what we've been working for," Sale said of his outing against Minnesota. "For the most part, I had everything going under control."
Certainly, Sale is encouraged about what could come next as he goes through the season.
"I just need reps. I need to get off the mound. I need to feel more comfortable and just be more consistent," Sale said. "You know, this is a game of consistency and making adjustments and those are two things I desperately needed to make."
His outlook might be brighter knowing Baltimore is the next foe. Sale is 10-3 with a 3.21 ERA in 24 career appearances (18 starts) against the Orioles
Boston catcher Reese McGuire didn't play Sunday after his right hand was struck by a foul tip Saturday. It's not expected to be a long-term absence, Red Sox manager Alex Cora said
"He should be available in Baltimore to start a game," Cora said.
Despite recent victories, Baltimore's run production has been shoddy at times, but there are enough good signs to keep things moving in the right direction.
"It goes back to putting the pressure on the defense, putting the ball in play and making things happen," Frazier said.
The Orioles didn't have a base runner until the seventh inning Sunday against Detroit's Eduardo Rodriguez. That didn't prevent them from finding a solution. Baltimore won 2-1 in 10 innings despite collecting only three hits
The Red Sox, who have won three of their last four games, should feel good about their bats after Sunday's 12-5 romp at Milwaukee. Boston exploded in the eighth inning, scoring nine runs thanks in large part to a solo homer and grand slam from Masataka Yoshida
"I'd love to stack wins, whether it's in the division or out of the division," Orioles manager Brandon Hyde said
Boston won two of three games against the visiting Orioles to begin the season. The Red Sox scored nine runs in all three of those games
--Field Level Media