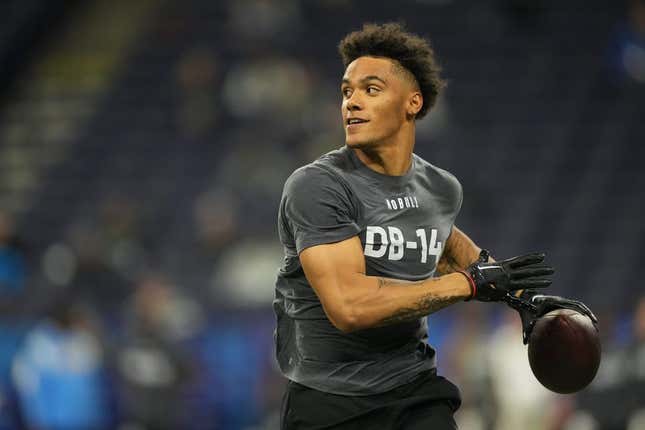 Arizona appears to be in the action spot at No. 3 in the 2023 NFL Draft.
The Cardinals cleaned house in the offseason, parting with coach Kliff Kingsbury after a four-win campaign that ended with quarterback Kyler Murray suffering a season-ending knee injury
Bass' ERA stinks, but not compared to who he is off the mound | Worst of the Week Countdown
With ground to make up on NFC runner-up San Francisco and the resurgent Seahawks, who also reached the playoffs last season, the Cardinals have many needs to address
They might be in the driver's seat for QB needy teams eager to climb ahead of the Indianapolis Colts -- who pick fourth -- with the Carolina Panthers and Houston Texans widely expected to kick off the draft by selecting quarterbacks of their own.
Arizona should have its pick of the best defensive players in the draft with the third pick, including Alabama defensive end Will Anderson Jr. and a number of polished cornerbacks.
The decision is in the hands of first-year general manager Monti Ossenfort.
TEAM NEEDS
1. OL: Upgrades at guard and center could be needed with reliable Rodney Hudson moving on and inside pressure a reason for the offensive decline last season.
2. Edge: J.J. Watt retired after posting a team-leading 12.5 sacks in 2022 and Arizona rarely threatened quarterbacks, posting 36 total sacks and allowing 29 TD passes.
3. CB: Opportunistic with 11 total interceptions, the Cardinals need a shutdown-type cover man to contend with division studs Cooper Kupp, Deebo Samuel and DK Metcalf
2023 DRAFT PICKS
Round Pick (Overall)
1. 3 (3)
2. 3 (34)
3. 3 (66)
3. 33 (96)
4. 3 (105)
5. 33 (168)
6. 3 (180)
6: 36 (213)
BEST FITS
1. CB Christian Gonzalez, Oregon: One of the smoothest athletes in the draft, Gonzalez could be the first defender off the board because of his natural ability and potential to leap right into a starring role. Too early for a corner? Ask the Jets if they regret using the No. 4 pick in 2022 on Defensive Rookie of the Year and All-Pro cornerback Sauce Gardner.
2. Edge Will Anderson Jr., Alabama: Defensive-minded head coach Jonathan Gannon is the wild card in the draft room this year, and the Eagles placed the highest priority on pass rush last season. Anderson was constantly double-teamed in the SEC and still had 34.5 sacks in three seasons. He's a gifted player with enough tools and drive to warrant the attention in the top five.
3. OL Peter Skoronski, Northwestern: If Arizona moves down and the top pass rushers and cornerbacks are out of reach, the versatile Skoronski makes sense as a guard-tackle option.
--Field Level Media