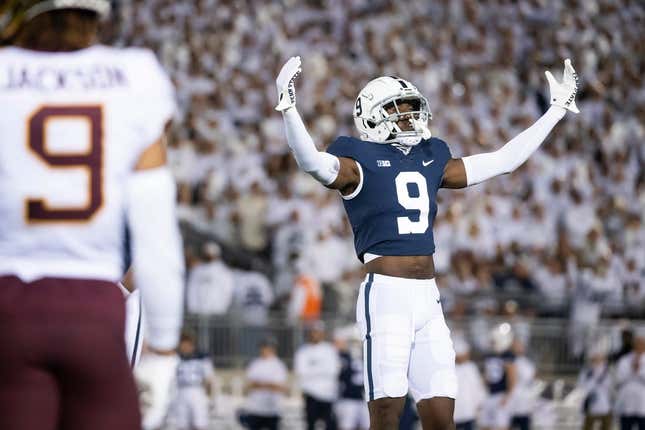 On the rise in the NFC North, the Detroit Lions are cashing in trade return received in the Matthew Stafford deal with the No. 6 pick in the 2023 NFL Draft
Bass' ERA stinks, but not compared to who he is off the mound | Worst of the Week Countdown
The "bonus" selection for general manager Brad Holmes invites a number of options, backstopped by the team's own pick -- No. 18 -- after an active free agency period.
Last season, Holmes flipped a pair of first-rounders into defensive end Aidan Hutchinson and wide receiver Jameson Williams (12th overall). Williams essentially had a redshirt season, practicing in November and making his debut in December after tearing his ACL in the 2022 national championship game with Alabama.
Jared Goff had a strong season in 2022 and the Lions have committed to him for the upcoming season. Beyond this year is not a guarantee, which brings quarterback into consideration in the first round
Using Williams as a living example of the philosophy, head coach Dan Campbell pointed out this month that Holmes doesn't have a depth chart in the draft room and will take the best "player, best athlete," on the board at No. 6.
TEAM NEEDS
CB: A big reason the Lions were one of the worst defenses in the league was a weak secondary. They've addressed it to some extent in free agency, signing Cam Sutton at cornerback and safety C.J. Gardner-Johnson (Eagles). More coverage help is required. Jeff Okudah was the third pick in the 2020 draft and there have been moments where he played to that rating, but they've been few and far between. Illinois' Devon Witherspoon plays with the type of edge Campbell wants, as does Penn State's Joey Porter Jr
LB: Iowa's Jack Campbell had a top-30 visit to Detroit and we can't help but mention Chris Spielman is consulting for the team. We'd pay cash money to read No. 54s report on Campbell, whose change-of-direction agility wowed some scouts at the combine.
QB: Anthony Richardson might be a project, but with the bonus draft pick in hand, a starting quarterback in place and young roster on the rise, why not gamble on upside? Tennessee quarterback Hendon Hooker (torn ACL in 2022) makes a world of sense later in the first round.
2023 DRAFT PICKS
Round Pick (Overall)
1. 6 (6)
1. 18 (18)
2. 17 (48)
2. 24 (55)
3. 18 (81)
5. 17 (152)
6. 6 (183)
6. 17 (194)
BEST FITS
1. CB Joey Porter Jr., Penn State: A brash bully who competes every snap, there might not be a better coach-prospect personality match in the draft.
2. DT Keeanu Benton, Wisconsin: The Lions have drafted nine defensive linemen in the past three drafts. Campbell hinted at the combine he'd like more, and particularly an active and productive interior lineman
3. OG Chandler Zavala, NC State: Two pre-draft meetings with Detroit's brass signal more than interest in this power-based interior lineman.
--Field Level Media