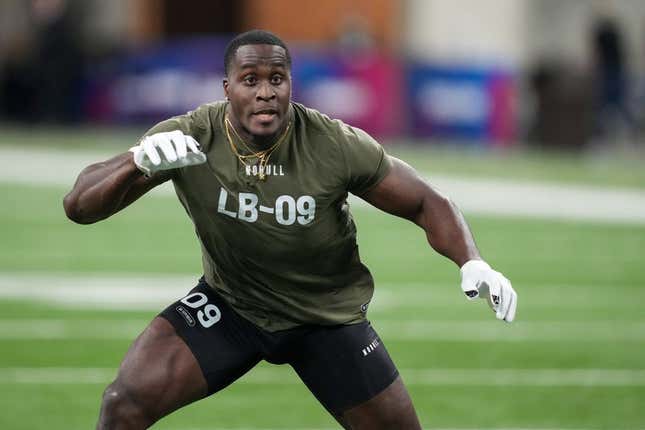 Green Bay has been "on the clock" since the regular season ended with a loss to the Detroit Lions, when the first serious signs appeared that Aaron Rodgers might not return.
Two weeks before the Packers are on the clock in the first round of the 2023 NFL Draft, Rodgers' exit to his preferred destination, the New York Jets, still wasn't complete
Team president Mark Murphy assessed at the time that the ball was in the Jets' court, and all indications are Green Bay will hold out until draft night to get a better compensation package. Jets general manager Joe Douglas reportedly won't part with his first-round pick in the swap.
With or without the additional compensation from the Jets, the Packers are planning to move forward with Jordan Love at quarterback
But as Rodgers experienced, general manager Brian Gutekunst isn't the type to draft to fill needs or operate with a predetermined plan, instead following his draft board to select the best talent available when Green Bay's pick is due.
TEAM NEEDS
1. TE: The good fortune for Green Bay is the timing of the need at this position, given the depth of the class and the chances the team's preferred prospect at the position will be available at No. 15. Robert Tonyan (Bears) and Marcedes Lewis are gone, and the cupboard is bare without them. The Packers reportedly missed out on the chance to land tight end Darren Waller, who was shipped to the Giants from the Raiders
2. OLB: Pass rushers are always at a premium on draft day, behind only quarterbacks when it comes to moves up in the first two rounds since 2017. Rashan Gary returns from a torn ACL but there's not much in the way of impact depth on the current roster.
3. QB: Largely untested, Love, the 26th overall pick in 2020, gets his chance but the Packers need to prepare for all possible outcomes -- including injury
2023 DRAFT PICKS
1. 15 (15)
2. 14 (45)
3. 15 (78)
4. 14 (116)
5. 15 (149)
5. 36 (170)
7. 15 (232)
7. 18 (235)
7. 25 (242)
7. 39 (256)
BEST FITS
1. TE Darnell Washington, Georgia: The youngest and largest at a thick position group, Washington's upside, size and athleticism are major pluses. His developed blocking and natural gifts lend support to the idea he could be an every-down option for Green Bay.
2. S Jammie Robinson, Florida State: There are size and timed speed questions with Robinson in the minds of some evaluators, but he's fast on the field and tenacious. A two-time All-ACC pick, he led the Seminoles in tackles last season and has seven career picks.
3. OLB Derick Hall, Auburn: More power than speed as a pass rusher, Hall has some winning traits and the timing numbers to develop better counters to get to the quarterback consistently.
--Field Level Media