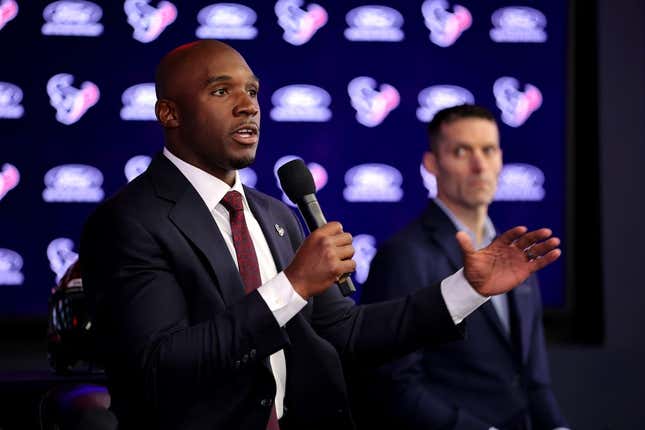 When is a rare win a crushing loss? In the case of the Houston Texans, it was a Hail Mary answered that pushed the Chicago Bears to the top spot in the 2023 NFL Draft
Are the Oakland A's a failed state? | Agree to Disagree
When Houston took down the Colts in the regular-season finale, 32-31, on a last-gasp touchdown pass and the Bears lost the same day, it set the draft order based on the Texans' better winning percentage
Whether it costs general manager Nick Caserio and new head coach DeMeco Ryans a shot at their preferred prospect remains a cliffhanger.
The Texans are stuck in rebuilding mode, on their fourth coach in four seasons, and trying to calibrate an offense without a dependable quarterback. Caserio put together a strong draft, spent conservatively on free agents and now focuses on building a young and deep roster in the topsy-turvy AFC South
An undersized underdog quarterback himself, Caserio watched Alabama's Bryce Young in person multiple times last season. Ryans was a standout linebacker for the Crimson Tide.
If the tea leaves are pointing to a preferred passer, it's Young, even at a physical stature that raises concerns. The Carolina Panthers could choose Young at No. 1 after moving up in a deal with the Bears.
Ohio State quarterback C.J. Stroud remains in the running and was recently compared to Joe Burrow by the Panthers' coaching staff.
But Ryans also knows from his time as defensive coordinator of the San Francisco 49ers the profound benefit of a game-changer outside, and could opt for another Tide prospect -- Will Anderson Jr.
TEAM NEEDS
1. QB: Size might not matter as much at quarterback after Jalen Hurts proved his value and carried the Philadelphia Eagles to the Super Bowl in a unique, custom-built scheme that points to Young being a top 3 pick. Caserio faces pressure with the selection, knowing a miss could ultimately mean starting over with a new front office.
2. Edge: Getting to the quarterback hasn't been a trick in the Texans' bag with 71 total sacks the past two seasons. By comparison, the Eagles had 70 sacks in the 2022 regular season
3. WR: Brandin Cooks was offloaded and Houston doesn't return a player with more than 48 receptions last season.
2023 DRAFT PICKS
Round Pick (Overall)
1. 2 (2)
1. 12 (12)
2. 2 (33)
3. 2 (65)
3. 10 (73)
4. 2 (104)
5. 2 (138)
5. 26 (161)
6. 11 (188)
6. 24 (201)
6. 26 (203)
7. 13 (230)
7. 42 (259)
BEST FITS
1. QB Bryce Young, Alabama: Instinctive, clutch, cool under pressure, driven, rare leader. The same words used to describe Ryans at Alabama are the high marks on Young's report. The match is nearly perfect.
2. OLB Lukas Van Ness, Iowa: High-effort, high-motor pass rusher who has a high ceiling and could be available at No. 12 due to a niche role with the Hawkeyes.
3. DE-OLB Andre Carter II, Army: Raw but powerful with upside, Carter projects as a second-round pick because some patience will be required for the grand payoff.
--Field Level Media