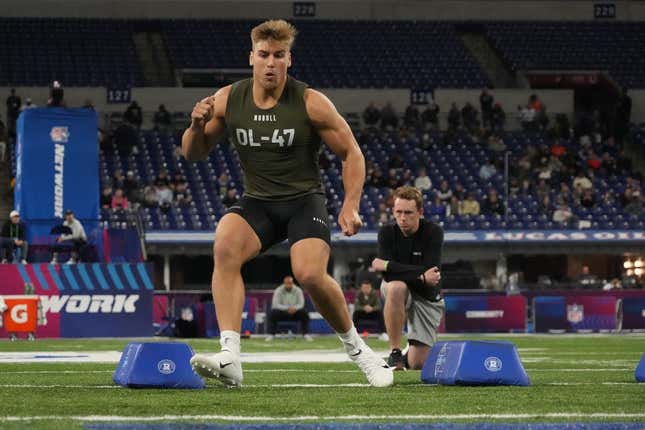 The Patriots hold the 14th overall pick and rumors flew in every direction around New England in April
A disappointing season for the Patriots' offseason led to an overhaul in the offseason, but reports of the franchise moving on from Mac Jones two years after he was drafted appear to be unfounded
Chances are that won't be the case, especially with Bill O'Brien in at offensive coordinator and sharing that Alabama connection with Jones.
Rather than using the 14th overall pick to replace Jones, the Patriots could use it to help him take a step forward
"Coach (Bill) Belichick, he's, you know what type of franchise program they have over there," former Ohio State wideout Jaxon Smith-Njigba said. "So, it definitely would be awesome being in that system. Mac Jones, also a great arm talent. Great quarterback. Definitely would like playing there."
With such an arsenal of draft picks at his disposal this year, Belichick would surprise no one if he dealt some -- or most -- of them on draft day.
TEAM NEEDS
1. CB: Veteran safety Devin McCourty's retirement leaves a huge hole in the secondary. New England re-signed Jalen Mills during the offseason and has Jonathan Jones and Jack Jones, but it needs to get Myles Bryant off the field. Bryant has seemingly been a blown-coverage connoisseur, ranking 50th in coverage grade and catch rate against among 56 cornerbacks to play at least 450 coverage snaps last season, according to PFF.
2. OT: Trent Brown is an unrestricted free agent following the upcoming season and 34-year-old Riley Reiff was only signed to a one-year deal, leaving plenty of questions as to what this O-line is going to look like come 2024 and beyond.
3. WR: Adding JuJu Smith-Schuster in the offseason certainly gives New England some added depth, but the Patriots still don't have a true No. 1 receiver. Last year's second-round draft pick, Tyquan Thornton, finished with just 22 receptions, so he doesn't appear to be in line to be a centerpiece of the offense
2023 DRAFT PICKS
Round Pick (Overall)
1. 14 (14)
2. 15 (46)
3. 13 (76)
4. 5 (107)
4. 15 (117)
4. 33 (135)
6. 7 (184)
6. 10 (187)
6. 15 (192)
6. 33 (210)
7. 28 (245)
BEST FITS
1. Edge Tyree Wilson, Texas Tech: Trading down is the way of the Patriots in the draft, and to get Wilson, New England would need to break rank and rip into the top six or seven picks. Wilson met with the Patriots twice. But some teams view him as the premier pass rusher in the draft
2. Edge Lukas Van Ness, Iowa: The arrow points up for Van Ness, an athletic underclassman who was largely a reserve for the Hawkeyes. His hockey background will appeal to Belichick and the Patriots and a plus work ethic, competitive grade and potential to develop with NFL coaching and a defined role make him a fit
3. CB Joey Porter Jr., Penn State: One of the first questions the Patriots ask prospects in face-to-face settings is why they love football. Porter won't need many words. He's a heart-on-the-sleeve, all-effort cornerback with the brash confidence to match his dad, former Steelers pass rusher Joey Porter, even if the generation gap implies Belichick might frown at some of the antics
--Field Level Media