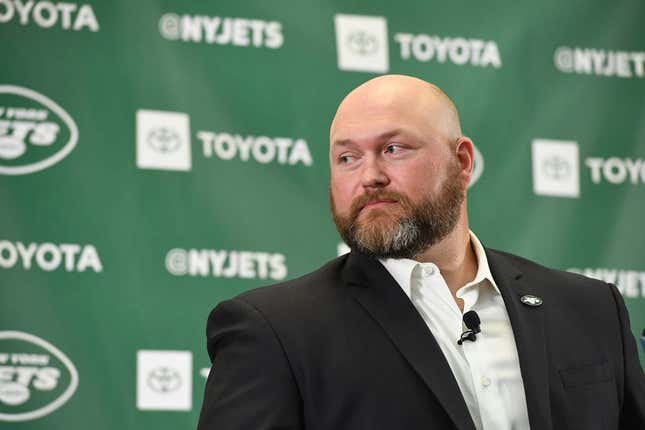 Aaron Rodgers consumed all discussion of the New York Jets' offseason
With two weeks to go before the NFL draft, he's still a member of the Green Bay Packers.
Air Jordans are more American than McDonald's French fries | Deon Cole's Ultimate Sports Fantasy
Every party -- the Jets, the Packers and Rodgers himself -- wants a trade to be completed, but how much of the Jets' 2023 draft capital might be part of that agreement remains a sticking point
According to reports, general manager Joe Douglas and the Jets prefer to hold onto the 13th overall pick and use it to shore up one of the other lingering needs on a roster that could be one stellar quarterback away from the playoffs
Douglas has said offensive and defensive line are a priority for his team-building strategy, and the O-line in particular will, eventually, have the critical task of keeping Rodgers upright.
Mekhi Becton, the Jets' 2020 first-rounder, is recovering from a fractured kneecap that sidelined him all of last season. The Jets also brought back Duane Brown, the former All-Pro who will turn 38 in August and can serve as a swing tackle
"That's definitely a position where we'd like to create some more stability and continuity, especially with the injuries we sustained last year," Douglas said of the O-line during the scouting combine.
The Jets picked up a second-round pick from the Cleveland Browns while giving up their third-rounder in order to send wide receiver Elijah Moore to Ohio. For now, that deal has New York picking back-to-back in the second round at Nos. 42 and 43
TEAM NEEDS
1. OT: The fact that the Jets haven't re-signed free agent George Fant signals interest in drafting a plug-and-play tackle. The combination of Becton, Brown and Max Mitchell isn't the path to safeguarding a prized asset like Rodgers
2. Center: Signing Wes Schweitzer (whose natural position is guard, not center) and Trystan Colon (four career starts) wasn't enough to address a position that's been unsettled since Nick Mangold retired.
3. ILB: C.J. Mosley is one of the highest-paid inside linebackers in the league, but he'll be going on 33 when his current deal ends after 2024 and the Jets have few proven players behind him
2023 DRAFT PICKS
Round Pick (Overall)
1. 13 (13)
2. 11 (42)
2. 12 (43)
4. 10 (112)
5. 9 (143)
6. 30 (207)
BEST FITS
1. OT Broderick Jones, Georgia: Lightly seasoned with 19 starts, Jones gets the attention of Douglas and most scouts in the middle of the first round based on his extremely high ceiling and athletic upside.
2. DT Gervon Dexter, Florida: When the juices are flowing for Dexter, he's nearly unblockable. In a defense with enough alphas, he could be a role player early and impact starter by the end of the season.
3. DL Jaquelin Roy, LSU: Upside for days and can steal snaps at multiple positions.
--Field Level Media