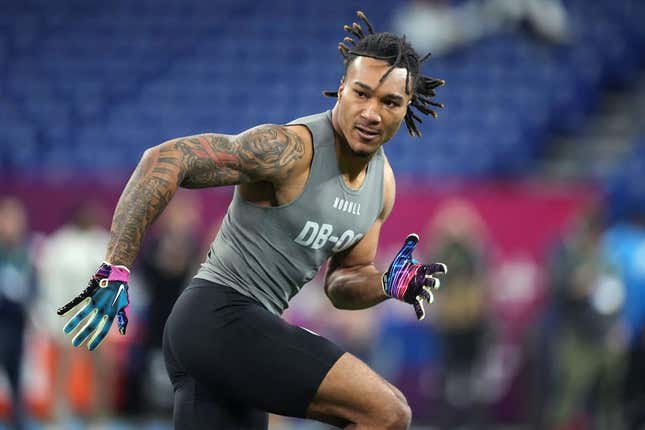 Howie Roseman has two first-round picks in the 2023 draft, and the architect of the NFC champion Eagles spent sparingly in free agency
Does Jimmy Butler have the best NBA Finals origin story? | Agree to Disagree
The theme of the offseason is balance, Roseman said, and continuing to build behind Philadelphia's established core.
Age could become a consideration as Roseman seeks new building blocks on the offensive and defensive lines, and the secondary warrants attention following a near split with cornerback Darius Slay and the exit of safety C.J. Gardner-Johnson.
With a stable crew of leaders on his defensive line, don't rule out Roseman swinging for the fences. He's traded a first-round pick in four of the past five drafts and a championship window doesn't remain open for long without restoring the top-level talent.
One question you can bet is being asked in draft simulations run by NFL teams picking in the top 15: Would Roseman deal two first-rounders or two of his first three picks to get to No. 3 (Arizona Cardinals) or No. 5 (Seattle Seahawks) and have his likely choice of defensive line and secondary prospects?
TEAM NEEDS
1. DB: Terrell Edmunds signed to take over at strong safety, and the surprise of the offseason was Philly finding a way to retain James Bradberry and Slay at cornerback. Adding a free safety and insurance at corner are still priorities.
2. LB: Two starting linebackers, T.J. Edwards and Kyzir White, left in free agency. The cupboard isn't completely bare at the position with 2022 third-round pick Nakobe Dean taking over in the middle.
3. DL: Defensive tackle Javon Hargrave will be missed after jumping for a hefty payday with the 49ers. Brandon Graham was a 2010 draft pick but would be the starter at right end if the season began today. Speed off the edge is needed and the Eagles are regulars when it comes to spending on defensive linemen in the first round as exhibited by the current depth chart featuring 2010, 2012, 2017 and 2022 first-rounders
2023 DRAFT PICKS
Round Pick (Overall Pick)
1. 10 (10)
1. 30 (30)
2. 31 (62)
3. 31 (94)
7. 2 (219)
7. 31 (248)
BEST FITS
1. DE Will Anderson Jr., Alabama: Perhaps you've overlooked Philadelphia's fondness for Crimson Tide products -- Jalen Hurts, Landon Dickerson, DeVonta Smith, Josh Jobe -- but Roseman never overlooks top defensive line talent. Anderson would jump right into the starting lineup and based on his college production, terrorize NFC East right tackles.
2. DT Calijah Kancey, Pittsburgh -- The 2022 ACC Defensive Player of the Year was a rock star before he snagged the spotlight at the NFL Scouting Combine. His size -- at 6-feet-2, Kancey is knocked for missing prototype minimums for some schemes -- won't scare away the Eagles, who covet speed and explosiveness to disrupt on the interior defensive line
3. S Brian Branch, Alabama -- Rated by Field Level Media as a top-20 player in the class, all the tools the Eagles want in a free safety are evident in Branch's game. His versatility to be a slot corner would soften the blow of losing Gardner-Johnson in free agency
--Field Level Media