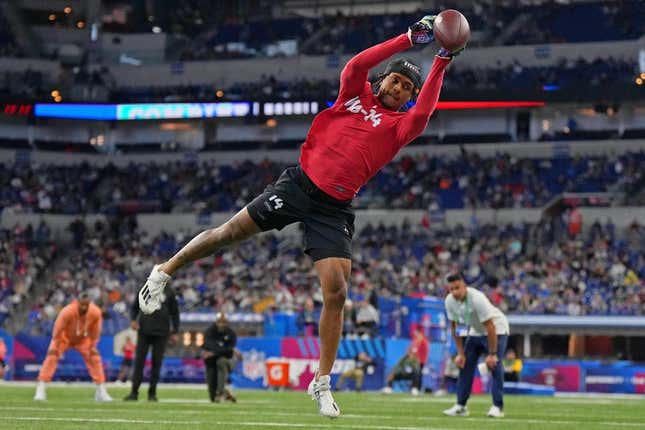 The Steelers have missed the playoffs in three of the past five seasons and haven't won a playoff game since 2016
Pittsburgh coach Mike Tomlin's job security remains safe, but the recent trend borders on unacceptable in the Steel City.
With quarterback Kenny Pickett entering his second season, the Steelers are balancing his long-term development with short-term gains
And they have the opportunity to make up some ground on both fronts with three selections among the top 49 picks in the 2023 NFL Draft.
New general manager Omar Khan is more worried about making the correct choices than making a splash. But he allows that standing pat is no certainty.
"I'd say all options are on the table," Khan said. "If there's a good football player and we have the opportunity to go get him, if we can get him, we're going to go get him."
Pickett is lobbying for former Pitt teammate Jordan Addison, who collected 100 passes for 1,593 yards and 17 touchdowns in 2021 when they last played together. But taking a cornerback at No. 17 overall may be a better move than taking a wideout.
Among the cornerbacks who could be available is Penn State's Joey Porter Jr., the son of the former Steelers standout. He would be a great addition for a defense that features linebackers T.J. Watt and Alex Highsmith, defensive tackle Cameron Heyward and safety Minkah Fitzpatrick
TEAM NEEDS
1. CB: Losing Cameron Sutton in free agency hurt and who knows at what level free-agent addition Patrick Peterson (34 career interceptions) will perform with his last Pro Bowl season coming in 2018. The Steelers will find it hard to pass on Porter if he is on the board
2: WR: One of Pittsburgh's two second-round picks should be used on a wideout who get down the field. Diontae Johnson caught a team-best 86 receptions last season but averaged just 10.3 yards and never found the end zone.
3: OL: The Steelers figure to tab a guard at some point in the proceedings. They added Nate Herbig (shaky pass blocker) and Isaac Seumalo in free agency but need a younger one to develop
2023 DRAFT PICKS
Round Pick (Overall)
1. 17 (17)
2. 1 (32)
2. 18 (49)
3. 17 (80)
4. 18 (120)
6. 17 (234)
7. 24 (241)
BEST FITS
1. OG O'Cyrus Torrence, Florida: Pittsburgh appreciates the power game Torrence plays and the 350-pounder could be the team's primary target. They've met with him at least three times since January, including at the scouting combine and Florida's recent pro day.
2. CB Devon Witherspoon, Illinois: Cam Sutton found a richer deal in Detroit, which stings the Steelers' secondary. Witherspoon is feisty, physical and versatile but might not be around at No. 17
3. WR Josh Downs, North Carolina: Smooth in any gear, Downs has advanced skills as a route runner and can sneak behind the secondary with few drops or lapses in focus.
--Field Level Media