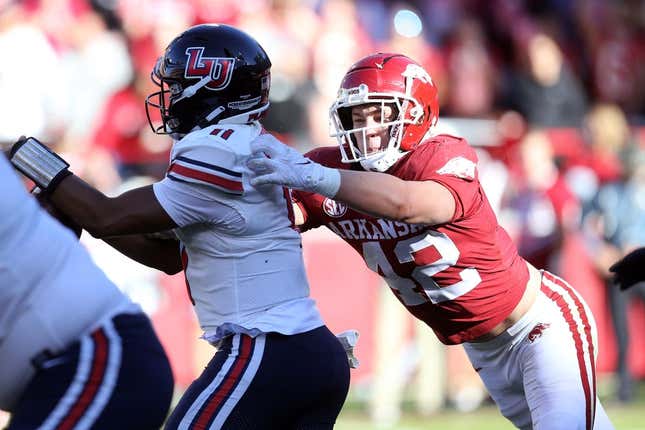 The 49ers can't fully sort out their 2023 quarterback situation until Brock Purdy's recovery from elbow surgery is further along. If the undrafted Purdy isn't progressing, former first-round pick Trey Lance could regain the starting gig while Sam Darnold will be in reserve
Purdy injured the arm in the NFC Championship Game loss to the Philadelphia Eagles that left the 49ers one win shy of the Super Bowl. If the 49ers draft a quarterback in the third round of the NFL draft, that will be a tipoff that team brass is concerned about Purdy's passing wing
San Francisco bolstered the defensive line by signing tackle Javon Hargrave (formerly of the Eagles) in free agency. The 49ers will certainly be looking for more talent for the defensive front as general manager John Lynch felt the quality of the line dropped off last season despite end Nick Bosa (NFL-high 18.5 sacks) having a sensational season
But there won't be any big splash forthcoming on draft day as the 49ers will be spectators for most of the first three rounds. They will experience a brief busy spell late in the third and hit another gear for the final three rounds
San Francisco received a league-high seven compensatory picks to bring its total count to 11. Lynch is just fine with the setup.
"Not sure I'd be thrilled about having a bunch of early picks," Lynch said. "It feels like there's not much differentiation from the top guys to the middle guys, there's a lot of good players."
Barring a trade, the 49ers' first action will come with three choices in four picks -- Nos. 99, 101 and 102
The defensive backfield as well as receiver and offensive line will be among the targets.
TEAM NEEDS
1. S: Jimmie Ward departed in free agency and the 49ers figure to use one of their three third-round choices on a safety. Ohio State's Ronnie Hickman and Illinois' Jartavius Martin could be possibilities
2: OL: Tackle Mike McClinchey departed to the Denver Broncos as a free agent and San Francisco signed C-G Jon Feliciano and T Matt Pryor. Adding a couple more linemen during the festivities appears to be a safe bet.
3: RB: Christian McCaffrey and Elijah Mitchell are a fine 1-2 combo if they stay healthy. Fifth-round possibilities could include Illinois' Chase Brown, East Carolina's Keaton Mitchell and Minnesota's Mohamed Ibrahim.
2023 DRAFT PICKS
Round Pick (Overall)
3. 36 (99) compensatory
3. 38 (101) compensatory
3. 39 (102) compensatory
5. 20 (155)
5. 29 (164)
5. 38 (173) compensatory
6. 39 (216) compensatory
7. 5 (222)
7. 30 (247)
7. 36 (253) compensatory
7. 38 (255) compensatory
BEST FITS
1. CB Cam Smith, South Carolina: A big-bodied cornerback with safety traits, Smith would be the BPA (best player available) target if the 49ers find him on the board in the third round
2. LB Drew Sanders, Arkansas: Former Alabama linebacker would be a versatile chess piece given experience rushing the passer and combination of speed and instincts.
3. OL Nick Broeker, Ole Miss: Has played tackle and guard and likely lands inside due to limited length. Athletic and versatile Day 3 pick.
--Field Level Media