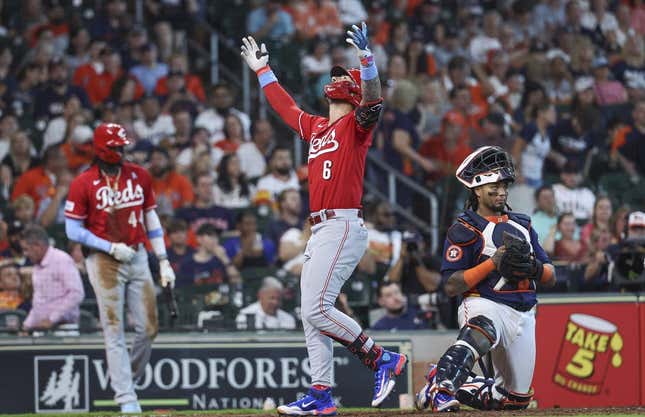 Two teams headed in distinctly different directions meet Monday night when the Colorado Rockies visit the red-hot Cincinnati Reds in the opener of a three-game series
How running an NFL team is like running a restaurant | Chef Emeril Lagasse
The Reds, who started 7-15, have won 11 of their last 13 and 30 of their last 50 to rise to second place in the National League Central. Cincinnati is the only team in the division with a winning record since April 24
Cincinnati's eight-game winning streak is its longest since claiming 10 in a row in July 2012, the last year the Reds won their division
Sunday's 9-7 win in 10 innings in Houston completed a three-game sweep of the defending World Series champs and marked Cincinnati's 23rd come-from-behind win, the most in the NL this season.
Second baseman Jonathan India and pitcher Hunter Greene are two of the building blocks of Cincinnati's rebuild, which has kicked into high gear in 2023.
India hit a go-ahead homer in the eighth inning Sunday, took a hit to his left leg turning a game-saving double play in the ninth and was hit by a pitch in the 10th. India has become the unquestioned leader of the Reds, who lost 100 games for the second time in franchise history in 2022
"I saw it early in spring training. I knew something special was going to happen this year," India said. "Now, we're just playing with momentum and rolling. We're a very good team."
Greene said the team's "mindset from spring training is that coming off last year and kind of being the underdog throughout the league, we've embraced that role. We know we have the talent, we have the work ethic, we have the leadership all the way around."
Rookies Matt McLain, Elly De La Cruz and Spencer Steer have revitalized the lineup while another rookie, left-hander Brandon Williamson (1-0, 5.40 ERA), gets the call against the Rockies in the series opener Monday night
Williamson will be making his seventh start since making his major league debut against the Rockies in Colorado on May 16, allowing one run on two hits over 5 2/3 innings in Cincinnati's 3-1 win
The Rockies counter with lefty Austin Gomber (4-6, 7.29), who is making his 15th start of the season. On Wednesday in Boston, Gomber allowed three runs and six hits over six-plus innings for the quality start, but he took the loss when the Red Sox scored five runs in the seventh en route to a 6-3 win
Gomber has just one win in his last seven starts and will be making his fourth career start against Cincinnati. He allowed five runs on eight hits in 4 1/3 innings on May 17 in Denver, but the Rockies rallied for an 11-6 win
In seven career appearances against the Reds, Gomber is 1-0 with a 4.29 ERA in 21 innings
The Rockies are trying to escape a five-game skid after losing 14-6 on Sunday in Atlanta
After winning the first two games of their 10-game road trip that started in Boston, the Rockies have stumbled badly. They were just swept in four games and outscored 40-12 by the Braves
"That's what's going to happen in this game. You're going to have to take your lumps," said Rockies veteran infielder Mike Moustakas, who played for the Reds from 2020-22, including last year's Cincinnati club that lost 100 games
"You're going to have to keep battling every single day, especially the younger guys. They're still learning how to perform at the big-league level, and the only way you're going to learn is by going through it. They're going to come out better on the other side."
--Field Level Media