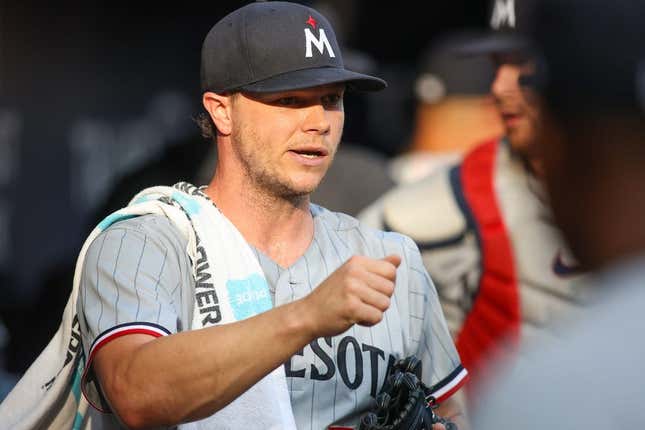 This past week has been a significant one for Sonny Gray.
Last Tuesday in Seattle, he made his third All-Star Game appearance.
Monday night, he'll take the mound as the American League Central-leading Minnesota Twins, winners of three in a row, open a four-game series against the host Mariners
How running an NFL team is like running a restaurant | Chef Emeril Lagasse
And Tuesday, he'll reach 10 years of service time in the major leagues, meaning he'll be fully vested in MLB's pension program.
"The running joke with me was that I was always, 'Oh, I'll play 10 years and I'm done. I'm out,'" Gray said last week. "Everyone that knows me from back then, they (say): 'Oh, you still done?'
"Wouldn't shock me if I didn't play any more after this year. ... Do I want to? Do I think I can? Absolutely. And I can at a very, very high level. It's not about the money. It's whether you still enjoy it, and does your family still enjoy it."
Gray (4-3, 2.89 ERA) is coming off his worst start of the season, in which he allowed six runs on six hits over six innings of a 6-2 loss to visiting Baltimore on July 8. But the right-hander is 5-3 with a 2.73 ERA in 14 career starts against the Mariners
The Twins defeated host Oakland 5-4 Sunday as Alex Kirilloff hit a solo homer and a three-run double and Christian Vazquez also went deep
"We're not a one-dimensional group, but we have to prove that we're not a one-dimensional group," Twins manager Rocco Baldelli said. "Showing it in these three games, that's what we saw. Our hitters plugged away, took a lot of tough pitches. We were on base a lot this series. We did a little bit of everything. It's a nice way to start the second half, is what it is.
The Mariners stumbled in their first two games out of the break before defeating visiting Detroit 2-0 Sunday as rookie Bryce Miller pitched five scoreless innings in his return from the injured list (blister on right middle finger) and Cal Raleigh homered
That got the Mariners back to the .500 mark and within five games of the AL's third and final wild-card berth
"We needed to win the ballgame (Sunday)," Mariners manager Scott Servais said. "Again offensively, it was not pretty by any means.
Right-hander Logan Gilbert (7-5, 3.66) is set to start Monday for Seattle. Gilbert, who allowed one earned run over 16 innings in his final two starts before the break, is 1-0 with a 0.82 ERA in two previous starts against the Twins
Closer Paul Sewald, who earned his 18th save Sunday, said he and his teammates realize the Mariners need to make a strong push soon, or they risk being sellers at the trade deadline
"We've got to win. That's what it comes down to," Sewald said. "Hopefully we have a little bit more sense of urgency than we've been having.
"You don't want to panic, but at the same time, these two weeks are important to see what the front office is going to do. ... This is a dangerous situation. Being on the bubble is a really bad place to be. It can throw your team one way or the other. We have to win as many games as we can in these next two weeks to make it viable. If we don't, then the front office will have to make some tough decisions."
--Field Level Media