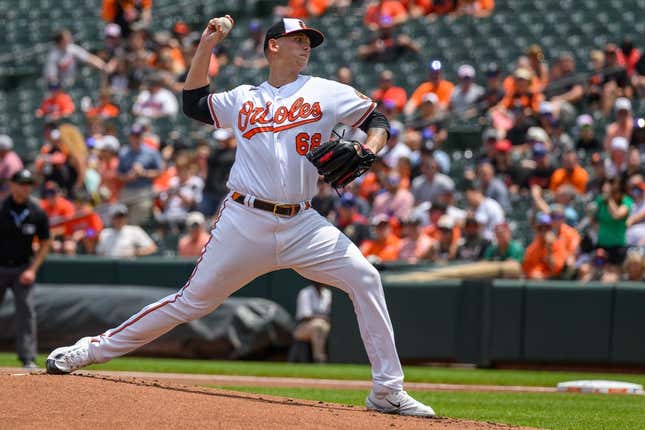 Less than 24 hours after an 8-6 win over the American League East-leading Tampa Bay Rays, the second-place Baltimore Orioles will wrap up a two-game series against their division rival in St. Petersburg, Fla., on Wednesday afternoon
How running an NFL team is like running a restaurant | Chef Emeril Lagasse
Orioles manager Brandon Hyde will rely on one of his top pitchers, Tyler Wells, a right-hander he said deserves to make travel plans for next month's All-Star Game in Seattle
Wells (6-2, 3.20 ERA), who was selected by the Minnesota Twins in the 15th round of the 2016 draft, will make his 14th start and 15th appearance of the season on Wednesday.
The Tulsa, Okla., native is one of the key components in the Orioles' success this season, a campaign in which they have used the momentum from last year's 83-79 mark and advanced a step toward the top of baseball's best division
At 28 years old, Wells has emerged as the team leader in four important stats that demonstrate his rotational value.
His ERA, strikeouts (82) and opposing batting average (.183) are the best among Baltimore's starters, while his WHIP (0.86) leads the majors.
"I am a big fan of Tyler Wells," Hyde said. "I am on the bandwagon of him trying to make the All-Star team. He's had a great first half. He's been really, really steady for us. He gives us a chance to win almost every time out and (has) put up great numbers. I'd love to see him have a chance to go."
The only strike against Wells is the long ball. Of his 54 hits allowed in 81 2/3 innings, 16 have left the yard.
In three June starts, Wells has beaten the San Francisco Giants, Kansas City Royals and Toronto Blue Jays, posting a stout 2.89 ERA along the way -- though opponents have hit .206, the highest against him in any month this year.
Across eight career appearances (four starts) against Tampa Bay, Wells is 0-2 with a 6.45 ERA.
Baltimore's Ryan O'Hearn, who hit a solo homer on Tuesday, has an eight-game hitting streak and is 14-for-28 (.500) during that stretch.
The Rays have entered uncharted territory, owning a three-game losing streak for the first time this season. However, they did battle back from a 7-0 deficit through 4 1/2 innings in the series opener, cutting it to 7-6 with a four-run sixth inning
Baltimore turned to its standout bullpen to seal the win. Yennier Cano tossed a scoreless inning, and Felix Bautista recorded four outs for his 20th save as the Orioles improved to 3-1 against the Rays this season
"They did a good job -- every time they got a pitch they could handle, it seems like they handled it," Tampa Bay manager Kevin Cash said of the Orioles. "They either got on base or (hit) a couple of big home runs.
On Wednesday, Rays rookie Taj Bradley (4-3, 4.19 ERA) will make his 10th career start and first against Baltimore
The right-hander has lost three of his past four decisions after starting his career with three consecutive April wins. Bradley has yet to complete six innings in a start, though he hasn't given up more than four earned runs in an outing.
--Field Level Media