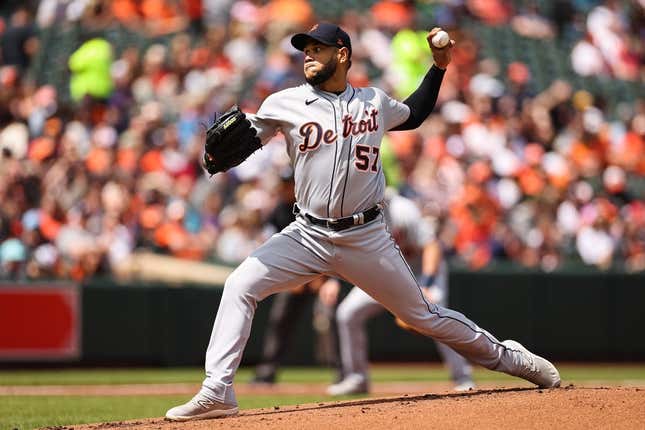 The Baltimore Orioles scored the game-winning run on a 10th-inning wild pitch after going nearly seven innings without a baserunner, defeating the visiting Detroit Tigers 2-1 in the finale of a three-game series Sunday afternoon
Bass' ERA stinks, but not compared to who he is off the mound | Worst of the Week Countdown
Tigers starter Eduardo Rodriguez took a perfect game into the seventh inning but didn't end up with a decision. Instead, the Orioles extended their winning streak to six games
Ryan Mountcastle broke up the bid for a perfect game with a single with two outs in the seventh. Then Rodriguez got Ramon Urias to fly out to end the inning. The Detroit ace struck out six without a walk.
In the 10th, the Orioles used a sacrifice bunt to move pinch runner Adam Frazier, who started on second base in Urias' place, to third before the wild pitch by Mason Englert (0-1)
Overshadowed was Baltimore starter Grayson Rodriguez, a highly touted rookie who was seeking his first big-league victory. He worked five shutout innings, allowing five hits and three walks while striking out six.
Keegan Akin (1-1), the seventh pitcher of the day for Baltimore, was the winner by working the 10th despite two intentional walks that loaded the bases for the Tigers
The Tigers scored in the top of the eighth on Spencer Torkelson's sacrifice fly. That came after Matt Vierling and pinch hitter Eric Haase began the inning with singles and moved up on Zach McKinstry's sacrifice bunt. That run was charged to reliever Cionel Perez, the fourth pitcher Baltimore used in the game
Eduardo Rodriguez was in line for the victory after working seven innings because of Detroit's run in the top of the eighth.
The Orioles tied the score on Anthony Santander's two-out, pinch-hit double off Chasen Shreve in the bottom of the eighth. That drove in Jorge Mateo, who had reached on an infield single with one out
Detroit scored one run in each of the three games in the series.
--Field Level Media