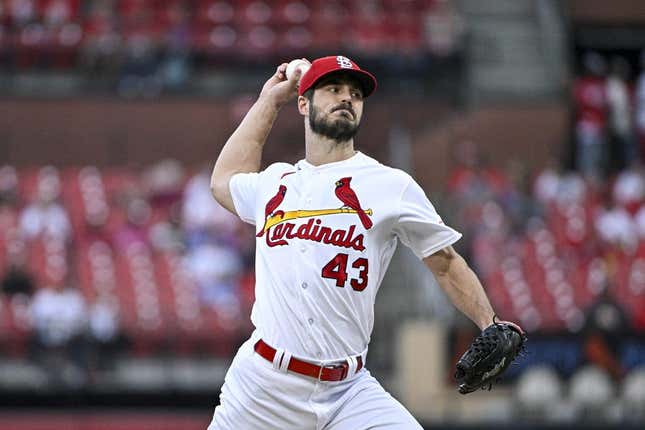 The Baltimore Orioles return from a nine-game road trip to open a homestand featuring a crucial series against the Tampa Bay Rays.
How running an NFL team is like running a restaurant | Chef Emeril Lagasse
But before that, the Orioles, who lead the Rays by three games in the American League East, will be looking to maintain their focus during a three-game series against the visiting St. Louis Cardinals that begins on Monday.
The Orioles (90-52) went 7-2 against the Diamondbacks, Angels and Red Sox on their trip. The Cardinals, last in the National League Central, have won four of six games on their nine-game road swing, taking two of three from both the Braves and Reds.
St. Louis (63-80) will send right-hander Dakota Hudson (6-1, 4.43 ERA) to the mound against Orioles right-hander Dean Kremer (12-5, 4.07) in the opener.
Kremer has been on an extended roll. Over his past eight starts, he is 2-1 with a 2.35 ERA while striking out 38 batters and walking 15. The Orioles are 7-1 in those games.
Last time out, Kremer lasted just 4 2/3 innings against the Angels last Tuesday despite not giving up a run. He left with the bases loaded and allowed four hits and three walks.
"It was okay. It was a bit of a grind," Kremer said of his effort. "Two-out focus was down, so kind of got hurt with that. Had to throw some extra pitches. But the team won, so that's what matters."
On Sunday, the Orioles saw their seven-game winning streak end with a 7-3 loss to the Red Sox at a muddy Fenway Park. The game featured 2 hours, 10 minutes of weather-related delays.
Three Baltimore errors led to five unearned runs.
Adam Frazier had two hits, including a two-run triple, for the Orioles.
"We just went 7-2 on a trip," Baltimore manager Brandon Hyde said. "Didn't play very well on the first one. Didn't play very well on the last one. We played seven excellent games and super happy and proud of what we did on this trip."
The Cardinals, meanwhile, were not able to complete a sweep against the Reds, dropping a 7-1 decision on Sunday while being held to one hit by four Cincinnati pitchers.
Ironically, the only St. Louis hit was an RBI single by Andrew Knizner, who began the day mired in an 0-for-17 skid.
Cincinnati hit four homers on Sunday, and Cardinals pitchers have allowed 17 during the first six games of the road trip.
Hudson has been up and down over his past three starts.
On Aug. 26, he gave up five runs in a loss to the Phillies. Then against the Pirates on Sept. 1, he allowed just one run over seven innings of a no-decision. Last time out, he earned a win against the Braves despite allowing five runs on seven hits over five-plus innings on Wednesday.
"I felt like this was one of the better games I've pitched up until that last inning," Hudson said, "and then it felt like they made adjustments, and I was one click behind."
The Cardinals have lost 80 games for the first time since 2007 when they finished 78-84.
—Field Level Media