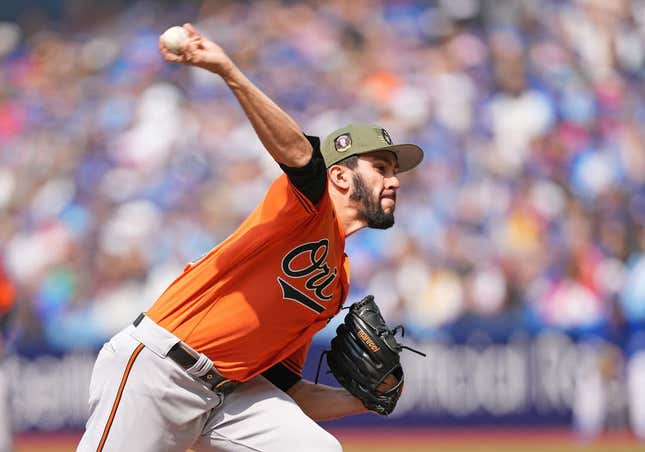 The Baltimore Orioles and Los Angeles Dodgers, two of the hottest teams in baseball, will match up for the first time since 2019 when they open a three-game series in Maryland on Monday
How running an NFL team is like running a restaurant | Chef Emeril Lagasse
They have other similarities, as well. Each will have a rookie pitcher on the mound for the first game, and both have injury questions about outfielders.
The Orioles sport an eight-game winning streak after sweeping three games from the visiting Miami Marlins
"Team wins all three games," Baltimore manager Brandon Hyde said. "I appreciate it. These guys are doing an amazing job in a really tough league. ... I've already kind of moved on to L.A. and who we're facing (Monday), and thinking about the Dodgers and how great that lineup is.
Los Angeles had a six-game winning string end Sunday with a 2-1 loss in 10 innings to the host New York Mets.
Dodgers outfielder Jason Heyward left the Sunday game with what was described as a stinger when he fell hard while trying to stretch a single to a double. Heyward is listed as day-to-day and he passed the test regarding the concussion protocol, according to Los Angeles manager Dave Roberts
Orioles center fielder Cedric Mullins sat out Sunday after leaving the Saturday game with right quadriceps tightness. Outfielder Aaron Hicks was scratched from the Sunday lineup because of a sore lower back, causing a shuffling of the lineup
The upcoming set will be the middle series of a nine-game road trip for the Dodgers, who had their Sunday game in New York pushed back more than 3 1/2 hours because of weather
"The Mets (and) Major League Baseball did a really nice job of getting ahead of it and pushing the start time back to keep us from being here all day," Roberts said.
Right-hander Grayson Rodriguez (2-2, 7.35 ERA), who dazzled in a pair of starts for Triple-A Norfolk in the final week before the All-Star break, will start on Monday for the Orioles. He struck out 15 over a total of nine scoreless innings
"He has done a nice job kind of applying what we talked about up here before he went down," Hyde said.
Rodriguez has made 10 starts for Baltimore in his rookie season, last appearing for the big-league team on May 26, when he was roughed up in a 12-2 loss to the visiting Texas Rangers.
Monday's start will mark his first appearance against a National League team. Despite Rodriguez's statistics, the Orioles are 7-3 in games in which he has pitched
"We feel comfortable where he is right now," Hyde said. "Hopefully, he can impact us positively the rest of the year. We're in the mindset of winning games right now, and hopefully, he sticks in the rotation the rest of the summer."
The Dodgers will go with right-hander Emmet Sheehan (2-0, 4.35 ERA) as their starting pitcher in the opener. This will be his fifth career game, and he is coming off his roughest outing to date. He gave up five runs on four hits and four walks in 3 2/3 innings on July 4 vs. the visiting Pittsburgh Pirates
Sheehan will be opposing the Orioles for the first time
--Field Level Media