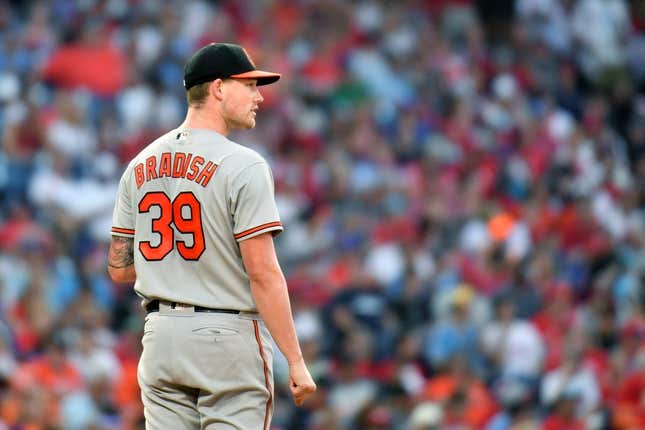 A pair of second-year major-leaguers will get the ball Sunday afternoon when right-hander Kyle Bradish and the visiting Baltimore Orioles look to complete a three-game sweep against lefty JP Sears and the Oakland Athletics.
How running an NFL team is like running a restaurant | Chef Emeril Lagasse
Baltimore has won the first two games of the set by five runs apiece but had to work much harder for Saturday's victory, with the Orioles using a five-run 10th inning to break a 2-2 tie.
Bradish (7-6, 3.18 ERA) has pitched the Orioles to three straight wins in August, going 1-0 with a 2.55 ERA against the Toronto Blue Jays, New York Mets and Seattle Mariners. He has struck out 19 over 17 2/3 innings in that stretch.
He did not face the A's in their April visit to Baltimore and will be seeing them for the first time in his career.
The Orioles used six pitchers to secure Saturday's win, including rookie Shintaro Fujinami, who began the season as a starting pitcher for the A's.
The right-hander flashed his 100-mph fastball Saturday in his first return to Oakland since having been traded to the Orioles for a minor-leaguer in July.
He struck out two of the four batters he faced.
"Great for him, great for us," Orioles manager Brandon Hyde gushed of Fujinami's fastball during his team's western swing, which so far has resulted in five wins in eight games. "If we can get him over the plate, it's going to be a huge weapon for us. He's got unbelievable stuff, and we've seen that."
The Fujinami trade has created more opportunities for Oakland's young pitchers, including the 27-year-old Sears (2-9, 4.27), who hasn't won since July 28. He has gone 0-2 with a 5.79 ERA in his three August starts against the Los Angeles Dodgers, Texas Rangers and St. Louis Cardinals.
Sears took his first loss of the season in the April series in Baltimore, allowing three runs in five innings in a 5-1 setback. Adley Rutschman and Ryan Mountcastle homered off him in that game.
The former New York Yankee has faced the Orioles four times in his career, three times as a starter, and gone 2-1 with a 2.65 ERA.
A's manager Mark Kotsay praised the effort of another of his young pitchers — Ken Waldichuk — in Saturday's loss after the lefty struck out seven in 5 2/3 innings.
The Oakland skipper hopes Waldichuk's inexperienced colleagues learn from a guy who has improved his ERA from 7.46 on June 1 to his current 5.91.
"He's just understanding how to pitch a little bit better," Kotsay said. "The execution of pitches is starting to get better. His misses are starting to get better.
"We talk a lot about the young pitchers and the time it takes to come here and have success. The farther Ken has gone along, it's not about just throwing and throwing it as hard as you can. It's mixing the pitches."
Having won three of four when the clubs met in Baltimore in April, the Orioles already have clinched the season series against the A's with a 5-1 record.
—Field Level Media