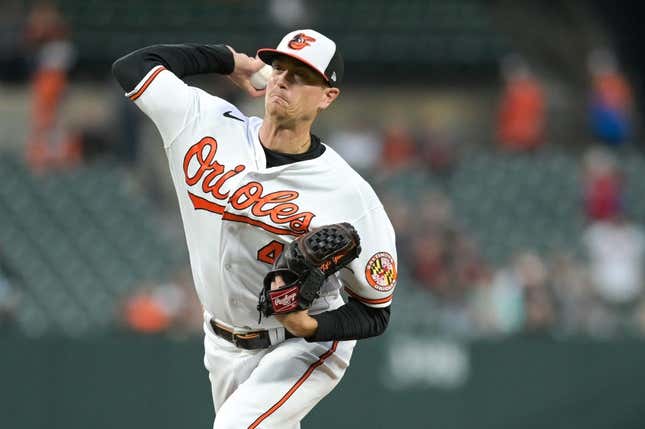 The Baltimore Orioles swept the Detroit Tigers in a three-game home series last weekend. The clubs will match up again this week with four games in Detroit, beginning on Thursday night
Are the Oakland A's a failed state? | Agree to Disagree
Stellar pitching stymied the Tigers' batters last weekend, as the Orioles held Detroit to one run in each of the three contests. Veteran right-hander Kyle Gibson tied his career high with 11 strikeouts in Baltimore's 5-1 victory on Saturday
Gibson (4-0, 3.60 ERA) will take the mound again in the series opener. He worked out of a bases-loaded jam in the first inning on Saturday and went on to limit Detroit to two hits and one run in 6 1/3 innings.
"I'm still working on trying to have more double-digit-strikeout games than zero-strikeout games, so if I can get a couple more double digits under my belt to have more than goose eggs, that'd be great," Gibson said. "I was joking with somebody -- there's guys that do this every five days. I don't know how much fun that must be for them, because that's fun when you go out there and you feel unhittable most of the game."
He used his sinker, sweeping breaking ball and changeups to great effect, as the Tigers swung and missed 18 times during his outing
"He was lights-out," Baltimore catcher James McCann said. "I had to face him enough in my career, and getting to catch him is a lot more fun. But again, I can't say enough about just the way the game started to how he settled in and went into cruise control."
Gibson is 11-11 with a 5.64 ERA in 26 career appearances against Detroit.
He will be opposed once again by left-hander Joey Wentz (0-3, 7.56 ERA), who allowed five runs and six hits in four innings on Saturday. Wentz gave up four third-inning runs and McCann's solo homer in the fourth.
"Overall, my stuff was pretty good, but I kind of failed to make a big pitch," Wentz said.
The Tigers failed in their bid afternoon to complete a three-game road sweep of Milwaukee on Wednesday. Brewers starter Freddy Peralta limited them to two runs in six innings and struck out eight. The only bright spot at the plate for Detroit was Akil Baddoo, who had two doubles
Milwaukee led 5-0 after three innings.
"It was a tough matchup with Peralta for a lot of our guys when he's spinning the breaking ball in there and he's got all of his pitches," Tigers manager A.J. Hinch said. "He's a really good pitcher when he's locked in. We tried to chip away when we fell behind by five and we were able to close in a little bit.
The Orioles have won eight of their past nine games. They bounced back from a streak-busting 8-6 loss to the visiting Red Sox on Tuesday by earning a 6-2 victory over Boston on Wednesday
Baltimore had only one extra-base hit among 11 hits in the series finale against the Red Sox, scored half of its runs on sacrifice flies.
"We're doing the little things really well. We need to," Orioles manager Brandon Hyde said. "We're not going to be first in offense and we're not going to lead the league in homers. We need to run the bases well, be able to move runners, be able to score runners from third. We did that well today.
--Field Level Media