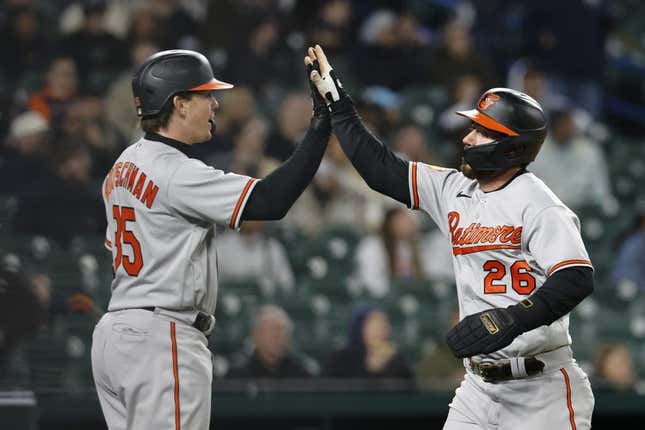 The Baltimore Orioles haven't let much time lapse between winning streaks in the first month of the season
Bass' ERA stinks, but not compared to who he is off the mound | Worst of the Week Countdown
They've strung together victories, so creating another streak is one of the objectives in the series finale against the host Detroit Tigers on Sunday afternoon
"Got to keep the energy up," Orioles outfielder Ryan McKenna said. "It's a big part of the game. You've got to stay with every pitch.
The Orioles and Tigers split Saturday's doubleheader, with Baltimore prevailing 6-4 in the nightcap. That marked the team's 10th win in its last 12 games
The Orioles went deep into their bullpen in Saturday's second game, but it worked out: Grayson Rodriguez and six relievers got the job done
What manager Brandon Hyde has enjoyed about the Orioles is that there has been a wide variety of difference makers. For instance, shortstop Jorge Mateo is supplying spectacular defense
"Mateo made a bunch of great plays," Hyde said.
The Tigers have lost three of their last four games
"We had an opportunity after we fell down by a bunch (6-0 in the second game)," Detroit manager A.J. Hinch said. "It has been a characteristic of our team. We're going to keep playing."
Baltimore has won five of six meetings with Detroit this year.
The Tigers have done well at times in keeping the Orioles in check, but mostly Baltimore has found ways to win, Hinch said
"You don't have to kill the ball to create an inning, and they showed that," he said. "That offensive plan that they put together was pretty effective."
Even though Tyler Nevin of the Tigers smacked a three-run home run in the second game Saturday, he was optioned back to Triple-A Toledo after the game. He played with the Orioles last year
"Those are hard (conversations)," Hinch said. "In general, you look at 20 to 30 at-bat increments. His role was sort of funky. Things didn't work out for either one of us for right now. As I told (Nevin), he's going to be back. We don't have the playing time the next couple of weeks for him."
Infielder Zack Short is staying on Detroit's active roster after playing in his first two games of the season with the club Saturday. He homered in the first game, while Hinch said he likes the defensive versatility Short provides as well.
The Orioles will have right-hander Kyle Bradish (1-1, 6.30 ERA) on the mound for Sunday's start. He has had two outings with a wide swing in efficiency since an injury in his season debut. He tossed six shutout innings against Washington and then was tagged for seven runs in 2 1/3 innings against Boston
Detroit's starter will be right-hander Spencer Turnbull (1-3, 7.25), who has had more strikeouts than walks in only one of his five outings this season. Still, the Tigers have been winners in two of his last three games
This will mark Bradish's first time meeting the Tigers, coming in the 27th start of his two-year career. Turnbull has never faced Baltimore in 59 career games
--Field Level Media