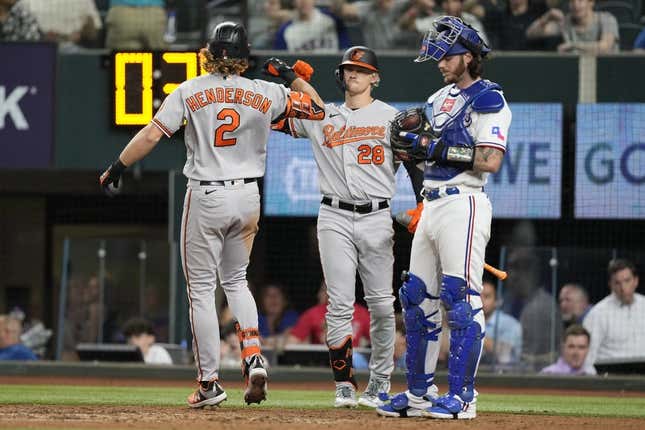 The Orioles' pitching plans were uncertain for Tuesday night as Baltimore prepares to face the Texas Rangers in the middle game of a three-game series at Arlington, Texas
Air Jordans are more American than McDonald's French fries | Deon Cole's Ultimate Sports Fantasy
The Orioles used projected Tuesday starter Tyler Wells in relief on Monday night after Kyle Bradish exited in the second inning after taking a line drive off his right foot. Wells pitched well, throwing five no-hit innings as part of a combined one-hitter in a 2-0 win, but it left a question mark as to who would get the nod on Tuesday
Kyle Gibson, the Orioles' Opening Day starter, could be an option, as he would be on regular rest. However, Baltimore manager Brandon Hyde said the team would consider all options after focusing solely on getting a win on Monday
Baltimore has won seven straight games against Texas dating to the start of the 2022 season. It is the Rangers' longest losing streak against the Orioles since another seven-game skid from July 10, 2013, to June 4, 2014
In addition to the strong bullpen performance, the Orioles were pleased to see Gunnar Henderson go deep for the first time this season. Henderson was 0-for-8 with six walks in the season-opening series at Boston, but he had two hits in the opener at Texas. Henderson's second hit of the night was a solo shot off Texas starter Jon Gray in the fourth inning
Hyde said before the game about Henderson, "The hits haven't come yet, but they will. He's taking good at-bats, a lot of 3-2 counts, laying off borderline pitches.
"Once he gets that first one, he'll be able to relax a little bit."
Orioles shortstop Jorge Mateo produced the only other run with a solo home run in the fifth inning off Gray
For Texas, Monday was a step back after a strong offensive showing in a season-opening, three-game sweep of the Philadelphia Phillies. Rangers third baseman Josh Jung produced the team's only hit Monday, an infield single in the second inning
Texas manager Bruce Bochy acknowledged his team's offensive struggles after the Orioles were forced into an early pitching change
"That happens, and you have to adjust," he said. "It's part of the game. You have to give them credit -- the bullpen came in and did a great job on us. We took too long figuring out (Wells), their long guy. The 'pen just threw the ball very well. We just got shut down."
The Rangers' lineup also lost a man when left fielder Josh H. Smith was hit in the face by an 89 mph pitch in the third inning. Smith was taken to a local hospital, and Bochy said CT scans came back clean
"(Tuesday) we'll re-evaluate him," Bochy added. "See where we're at."
Texas will look to get back on track behind left-hander Andrew Heaney, who will make his Rangers debut after going 4-4 with a 3.10 ERA in 16 games (14 starts) with the Los Angeles Dodgers last season
Heaney is 1-2 with a 7.71 ERA in five games, including four starts, in his career vs. the Orioles. He is 0-2 with an 8.31 ERA in two starts at Globe Life Field in Arlington
--Field Level Media