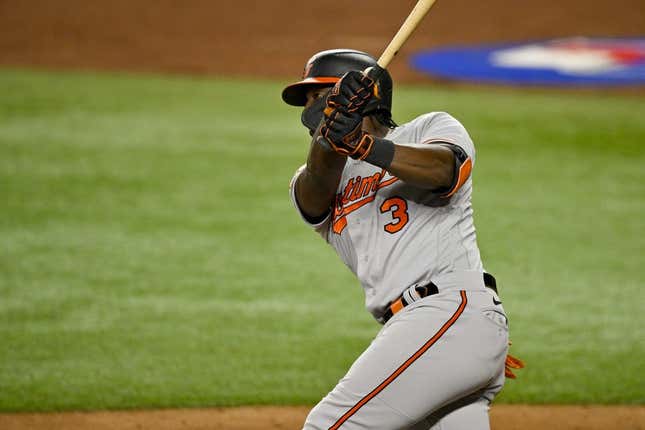 Jorge Mateo homered for the second time in as many days, Kyle Gibson allowed two runs over seven innings and the Baltimore Orioles rolled to a 7-2 road victory over the Texas Rangers on Tuesday in Arlington, Texas
Air Jordans are more American than McDonald's French fries | Deon Cole's Ultimate Sports Fantasy
The Orioles have now won eight straight over the Rangers, dating back to the start of the 2022 season. That matches the longest active losing streak against one team for Texas, which also has lost eight in a row vs. the San Diego Padres
Baltimore took control of the game with a five-run second inning, highlighted by a three-run home run by Ryan Mountcastle. Cedric Mullins and Ryan McKenna also had RBI hits in the inning.
Mateo added a two-run home run in the third. Mateo had a solo shot in the Orioles' 2-0 victory over the Rangers on Monday
The Rangers pulled starter Andrew Heaney (0-1) after Mateo's home run. It was a forgettable Rangers debut for Heaney, who allowed all seven runs on seven hits and two walks over 2 2/3 innings. He struck out two
Texas had a solid showing from its bullpen. Dane Dunning threw four scoreless innings and Taylor Hearn retired seven straight batters over the final 2 1/3 innings.
But the Rangers never threatened to get back in it
Texas scored its only runs on solo home runs by Adolis Garcia in the second inning and Nathaniel Lowe in the sixth inning. That was all Gibson allowed on the night.
Gibson (2-0) struck out five in seven innings during his second start with the Orioles. He started a day earlier than expected as projected starter Tyler Wells was used in a relief role Monday
Orioles relievers Logan Gillaspie and Cionel Perez closed out the final two innings Tuesday
--Field Level Media