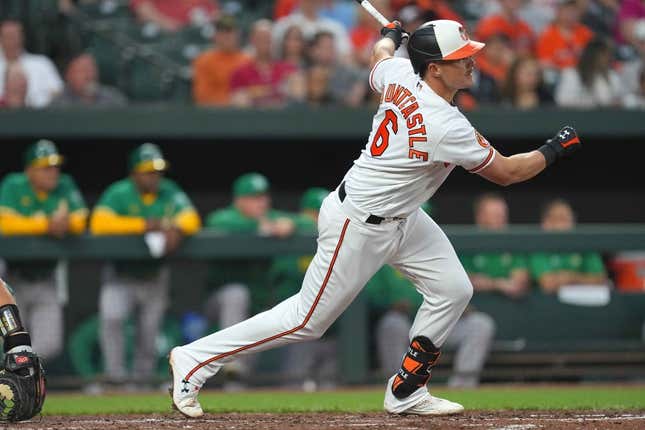 An encore would be nice for Ryan Mountcastle, though he knows that's unlikely.
But it's something worth dreaming about for the Orioles' first baseman after he collected nine RBIs in Baltimore's 12-8 comeback victory over the visiting Oakland Athletics on Tuesday night
Aaron Rodgers should go full Joe Namath | Comedian Bert Kreischer
"It's pretty cool," said Mountcastle, who was 3-for-4 with two home runs, including a grand slam. "It's pretty special."
The two teams will meet again Wednesday in the third game of a four-game series. The Orioles won the first two games, with Mountcastle crushing three home runs
He hasn't been alone with the big hitting. Austin Hays has homered in back-to-back games, rapping four hits from the leadoff spot Tuesday night. He's 6-for-9 in the series.
"Credit those guys, they put together great at-bats," Mountcastle said. "Those guys were getting on base. That's the only way I can get RBIs like that."
The Athletics have dropped six consecutive games, but at least they finally got some offense going. They had scored only one run across their previous three contests entering Tuesday's game
Oakland pitchers would be wise to solve Mountcastle if they have a chance to contain the Orioles. He now leads the majors in RBIs with 18, and his five home runs tie him for the MLB lead
"He looked like to me a much more mature hitter this spring and he carried it into the season," Baltimore manager Brandon Hyde said of the 26-year-old. "I love the confidence he's playing with right now."
The Athletics made a strategic move that allowed Mountcastle the chance to hit his grand slam, in the seventh. The homer came following an intentional walk to Adley Rutschman with runners at second and third and one out, with Baltimore up 8-7
"Adley has been swinging the bat really good," Athletics manager Mark Kotsay said. "We got the right-on-right matchup I think that we wanted. It just wasn't successful.
Wednesday night's pitching matchup involves struggling hurlers.
Right-hander Dean Kremer (0-0, 10.13 ERA) will make his third start of the season for the Orioles. He struggled against the New York Yankees and Boston, allowing nine runs in a total of eight innings
Kremer gave up two runs in six innings in last September's no-decision in his only outing against the Athletics
Left-hander Ken Waldichuk (0-2, 14.54) lasted only three innings Friday at Tampa Bay, allowing eight runs. That followed his season debut against the Los Angeles Angels, in which he gave up six runs in 5 2/3 innings.
He has never encountered the Orioles in his nine career starts
Hyde said he likes Hays' production against left-handed pitchers, so expect to see him high in the batting order against Waldichuk. He has a career average of .271 against lefties.
"For me with Austin, it's all about consistency," Hyde said. "With consistent at-bats, he's going to put up huge numbers."
A player who has put up some of the biggest numbers for the A's over the past two seasons is outfielder Seth Brown, and he's now out an estimated four to six weeks with an oblique strain. In that span, he has 45 home runs and 121 RBIs in 261 games.
The A's enter the game having scored just 36 runs on the young season -- the third-lowest total in the majors.
In a corresponding move, the A's called up 26-year-old infielder Kevin Smith, who was hitting .300 with five homers in his first seven games. He hit .395 in 21 Cactus League games in spring training.
--Field Level Media