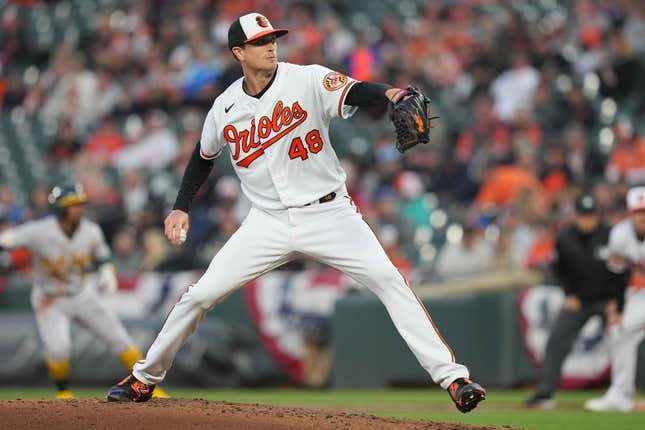 Baltimore Orioles starting pitchers have completed six innings just three times this season
Bass' ERA stinks, but not compared to who he is off the mound | Worst of the Week Countdown
"I'm concerned about our pitching in general right now," Orioles manager Brandon Hyde said. "I feel like we're gonna turn the corner, like we're gonna improve. But we gotta get deeper in the game.
On Saturday, one of the club's sturdier pitchers will look to meet the challenge against the host Chicago White Sox
Since allowing four runs in five innings on Opening Day, Baltimore right-hander Kyle Gibson (3-0, 3.44 ERA) has been especially sharp.
Gibson enters the matinee against Chicago with victories in his first two April starts, having struck out nine and yielded three runs in 13 1/3 innings. He is coming off a Monday home win against the Oakland A's, when he yielded one run and five hits in 6 1/3 innings.
Hyde called the start "a true veteran performance," saying Gibson "got into a great groove" after initially struggling with his command off the plate.
Gibson will oppose Chicago right-hander Michael Kopech (0-2, 6.75 ERA) as the White Sox try to even the series
Baltimore won the series opener 6-3 on Friday, continuing their trend of capturing the first game in all five series this season. The Orioles trailed 3-0 after six innings but scored six unanswered runs en route to their fourth victory in five games overall
Elvis Andrus doubled twice for Chicago, which already has navigated its share of injuries in the first two weeks of the season.
The White Sox will be without shortstop and leadoff man Tim Anderson (left knee sprain) for the next two to four weeks. On Friday, the same day Chicago welcomed Eloy Jimenez (hamstring) back from the injured list, the team placed third baseman Yoan Moncada on the IL due to back issues
White Sox general manager Rick Hahn expressed confidence in the group, specifically in the players in place to fill in at third. Jake Burger started at the hot corner Friday and hit a solo home run in the second inning to open the scoring. Hanser Alberto also figures to get time at the position with Moncada out
Hahn said of Moncada, "At this time, we're not hugely worried about (the injury) sticking with him for an extended period. Backs are difficult to deal with, let's say, in that it's not just a matter of, perhaps, the healing of a muscle strain, as a comparison, or a Tommy John surgery or something where there's a clear return-to-play protocol.
"But we are optimistic we'll be able to knock this thing out of him. Then all his problems will be behind him."
Gibson is 9-5 with a 2.91 ERA in 18 career starts against the White Sox, with 111 strikeouts and 11 home runs allowed in 117 2/3 innings
Kopech is 0-1 with a 3.38 ERA in three appearances (one start) against Baltimore. He has worked eight innings in that span, logging eight strikeouts and four walks.
On Sunday, Kopech allowed one run and two hits in six innings during a 1-0 road loss to the Pittsburgh Pirates.
--Field Level Media