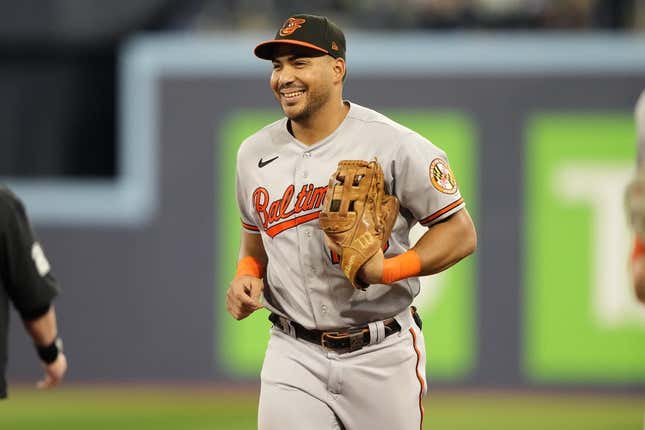 The Baltimore Orioles are giving fans something to cheer about. The team is then feeding off those cheers
How running an NFL team is like running a restaurant | Chef Emeril Lagasse
"It's really fun to have the fans there to support us, and it's really fun to be out there," Orioles outfielder Anthony Santander said. "When you're winning, it's really cool out there.
The Orioles go into Sunday afternoon's game against the visiting New York Mets looking to add to their latest surge of six wins in their last seven games
The American League East leaders are also looking for their second series sweep since the All-Star break. Baltimore took three games from the Miami Marlins back on July 14-16
"The energy in the ballpark the entire game was fantastic," Orioles manager Brandon Hyde said, referring to the atmosphere surrounding Saturday night's 7-3 win
"It was super loud. We're playing exciting baseball, and our guys are feeding off it. ... You hear the buzz start to grow as the moment gets bigger.
The Mets, on the other hand, will try to snap a five-game losing streak overall and a six-game skid away from home. They've also matched a season worst by falling 10 games below .500
Finding cracks in Baltimore's performance won't be easy
"We're getting some big hits," Hyde said. "I love the way we're running the bases. I love the defense we're playing.
The Mets can take some encouragement from Jeff McNeil, who had a two-run home run and an RBI single on Saturday
"It has been a really frustrating year for me," said McNeil, a career .297 hitter who is at .253 this season. "Not where I want to be, not where the team wants to be. Just trying to do what I can to get back.
On Sunday, right-hander Kyle Bradish (7-6, 3.32 ERA) heads to the mound for the Orioles. He has lasted at least six innings in each of his last seven starts, although he has allowed four homers over his last three appearances
This will be just his third start at home dating back to July 1 and the first time he has ever faced the Mets in his brief two-year career
Left-hander Jose Quintana (0-2, 3.57) gets the call for the Mets in just his fourth big-league game of the season. He has gone at least five innings in every outing and hasn't yielded a home run, though the Mets have lost all three games he has pitched
This will be Quintana's third straight road assignment. He's 2-4 with a 3.74 ERA in nine all-time outings (seven starts) against the Orioles
The Mets have adjusted their pitching staff by calling up right-hander Jimmy Yacabonis and optioning fellow right-handers John Curtiss and Reed Garrett to Triple-A Syracuse
Baltimore outfielder Colton Cowser, a rookie, has seen limited action recently, but he played the entire game on Saturday, starting in left field. He has scored five runs in the last three games and has played solid defense
"Just kind of let him relax a little bit," Hyde said of Cowser's tempered workload. "He wants to contribute.
--Field Level Medi