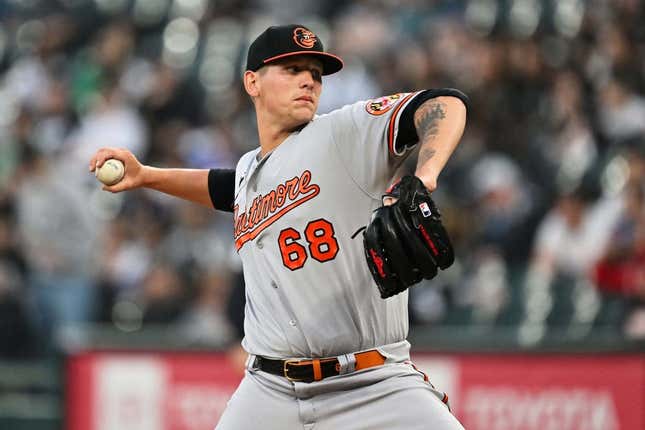 If the Detroit Tigers want to pick up their sixth win in seven games when they open a three-game series with the host Baltimore Orioles on Friday, they'll have to do something no team has been able to do all week
Chris Paul should ride the bench next season | Keep it a Buck(et)
Score.
Baltimore hasn't let an opponent cross the plate in 26 innings, last allowing a run when Grayson Rodriguez surrendered four in the opening frame of the Orioles' 8-4 victory over the White Sox on Sunday
Since then, Baltimore picked up a pair of shutouts against the Nationals, including Wednesday's 4-0 showing. Kyle Bradish did his part in keeping the scoreless streak alive, allowing just five hits and a walk while striking out six through six innings.
"We have a lot of really good arms on this team, and everyone's kind of putting it together," Bradish said. "I think going forward, you're going to see a lot more of this."
Right-hander Tyler Wells (0-1, 3.86 ERA) will be the next man tasked with preventing any runs from going up on the board, but if his past outings against the Tigers are any indication of how Friday will go, the staff's scoreless streak might be in jeopardy
Wells is 0-2 with a 9.00 ERA in three career appearances against Detroit. He has made two starts versus the Tigers, failing to last more than four innings while giving up at least three runs in both
In his most recent outing, a no-decision against the White Sox last Friday, Wells was tagged for three runs on five hits in 5 1/3 innings. He walked one and fanned three.
One of the many Detroit hitters looking to take advantage of Wells' struggles against the Tigers will be Spencer Torkelson, who is currently riding a four-game hitting streak. Torkelson was responsible for most of his team's offense on Wednesday, blasting a solo home run and doubling in a 3-2 loss to Cleveland
"You have to take advantage of hitters' counts," Torkelson said. "That's something we emphasize as a team. When you're in a hitter's count, it's time to do damage. You're not looking for a single through the right side. You're trying to do damage in that count."
Despite Wednesday's setback, Detroit wrapped up a 4-1 homestand, with manager A.J. Hinch perfectly pleased.
"Our guys kept fighting," Hinch said. "Love the way this homestand went, love the way we hung in there (Wednesday) after a 3-0 deficit and gave ourselves a couple of paths."
The Tigers will now see if that success translates to the road, where they are 3-6 this season
Michael Lorenzen (0-0, 13.50) will get the nod for Detroit in the series opener after giving up six runs on eight hits in four innings against the Giants on Saturday in his season debut. He issued a pair of walks and picked up six strikeouts while escaping with a no-decision.
Lorenzen has only faced Baltimore once in his career, giving up two hits and striking out one in an inning of relief back on April 19, 2017.
--Field Level Media