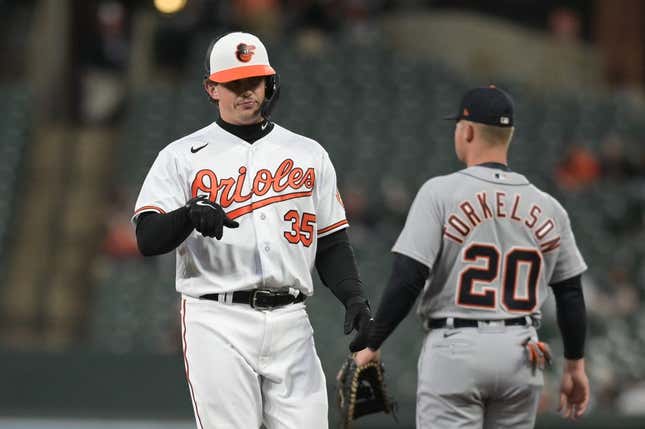 Ramon Urias drilled a three-run double and Kyle Gibson struck out 11 as the Baltimore Orioles picked up a 5-1 victory against the visiting Detroit Tigers on Saturday night
Bass' ERA stinks, but not compared to who he is off the mound | Worst of the Week Countdown
James McCann hit his first home run in an Orioles uniform against one of his former teams as Baltimore won its fifth game in a row
Gibson (4-0) logged 6 1/3 innings, allowing one run on two hits with three walks. Yennier Cano and Danny Coulombe completed what became a two-hitter, though Coulombe did issue a walk.
One of those two hits was Zach McKinstry's home run to center field with one out in the seventh inning. Detroit, loser of three in a row, had so few threats that it left only five runners on base.
By the time it was all said and done, the Tigers struck out 15 times and were limited to one run for the second night in a row. Every starter in the batting order fanned at least once
Tigers starter Joey Wentz (0-3) gave up five runs on six hits in four innings. Relievers Will Vest and Tyler Alexander combined for four hitless innings
Adley Rutschman went 2-for-3 with a walk as the game's only player with more than one hit.
Gibson has worked at least five innings in all five of his starts. During the five-game winning streak, the Orioles have surrendered a total of six runs
The Orioles struck first on Rutschman's two-out single in the third inning. It was a rather innocent inning after Gunnar Henderson's leadoff single. The next two batters were retired, but by the time Rutschman stepped to the plate, a balk and a wild pitch had put Henderson on third base
Baltimore wasn't done, as Ryan Mountcastle singled and Anthony Santander walked before Urias' big hit.
McCann's solo homer came in the fourth inning. He was appearing in his sixth game with the Orioles
McCann played his first five seasons (2014-18) with the Tigers
--Field Level Media