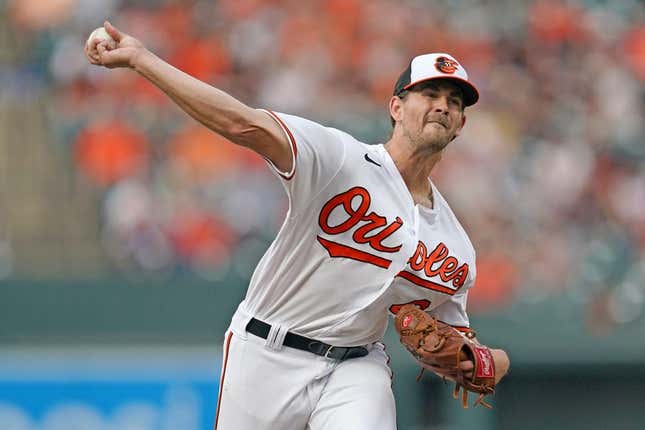 Anyone who wonders why the Orioles own the fourth-best record in the majors as they approach the midpoint of the season should consider this: Baltimore's longest losing streak is just three games, and that occurred just once
Is Texas or Florida State a bigger national title contender? | Agree to Disagree
The Orioles will attempt to keep it from happening a second time when they play host to the Seattle Mariners on Saturday
"Knock on wood, first of all," said right-hander Dean Kremer, who is scheduled to start on Saturday. "Second of all, the guys come ready to play every day, every series. If we drop one, drop another one, we're hungry for that next win."
Kremer (8-3, 4.56 ERA), who would even his career record at 18-18 with a victory, has won his past two starts, including a 6-3 decision against the host Chicago Cubs on Sunday that snapped Baltimore's two-game losing streak. Over those past two outings, Kremer allowed a total of three earned runs on 11 hits in 11 innings, with two walks and 13 strikeouts.
Kremer has made three starts in his career against the Mariners, going 0-0 with a 2.81 ERA in 16 innings
"I think we've got a bunch of pros that don't panic and are pretty consistent and stay steady and understand that things can change in a day," Orioles manager Brandon Hyde said. "I don't see any panic in our clubhouse.
Baltimore outfielder Aaron Hicks, who was signed as a free agent on May 30 after he was released by the Yankees, believes the Orioles have what it takes to stay in the playoff race. He speaks from experience, having played for New York during its six consecutive postseason appearances from 2017-22
"They come ready to play every single day, and that's what's fun to see," Hicks said of his new teammates. "The guys here, they want to play every single day and they want to go out and win."
The Mariners won the series opener 13-1 on Friday behind a 17-hit attack. Teoscar Hernandez hit his team-leading 14th home run, Tom Murphy also went deep and Seattle put the game away with six consecutive run-scoring singles with two outs in the eighth inning
"If you take a look at our at-bats for the first two to 2 1/2 months, we didn't have a lot of those strung together," Murphy said. "And now you see a couple of games where everything's kind of strung together with everybody in the lineup."
It was the Mariners' second straight game with double-digit runs after a 10-2 road victory over the Yankees on Thursday
That came after Mariners manager Scott Servais questioned his players' approach at the plate, especially their lack of competitive at-bats early in games
"I think in the past, you'd see us do it like the sixth, seventh and eighth inning where the offense kind of turns around and magically we win a ballgame because we all put together really good at-bats," Murphy said. "Really, we've been trying to find that recipe where we could do it for a full game, and hopefully we're getting there."
Rookie right-hander Bryce Miller (5-3, 3.68 ERA) is scheduled to start for the Mariners on Saturday
Miller has won his past two starts, including a 5-1 decision against the visiting Chicago White Sox on Sunday. He allowed just one run in each of those starts and a combined five hits over 13 innings. He walked three and fanned 12 in that stretch. He has never faced the Orioles
--Field Level Media