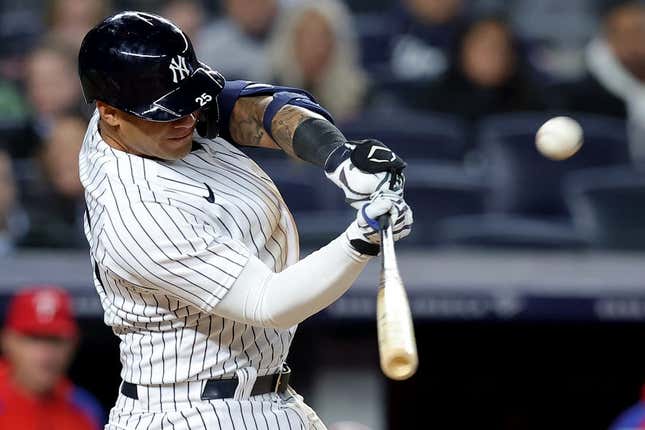 The Yankees have won both of their series this season. Now comes an added challenge
Bass' ERA stinks, but not compared to who he is off the mound | Worst of the Week Countdown
New York will play its first road game at Baltimore, hoping to extend its early run of good fortune.
It will be the home opener for the Orioles, which was delayed a day because of the forecast of severe inclement weather on Thursday. Friday was a scheduled off day
The Orioles split their road series to open the season, losing two of three against the Boston Red Sox before winning two of three against the Texas Rangers
For the Yankees, a good tone has been established in large part because of Gleyber Torres, who's batting .421 and has two home runs, six RBIs and five stolen bases
"It feels good. I feel really comfortable every at-bat," Torres said. "Don't try to do too much, just trying to hit and get a really good at-bat every time."
Manager Aaron Boone's Yankees will face an American League team for the first time this year after winning two of three against both the San Francisco Giants and Philadelphia Phillies
The Yankees have scored at least four runs in all but one game with at least one home run in every game. They beat Philadelphia 4-2 on Wednesday when Torres had three of New York's nine hits
"I know I have really good guys behind me so I feel a little more relaxed," Torres said.
New York could have a lineup tweak because third baseman Josh Donaldson left Wednesday's game with hamstring tightness.
"Don't think it's too severe," Boone said.
Baltimore is headed home after Wednesday's 5-2 loss at Texas in an outcome that prevented a three-game series sweep.
"We scratched for two. We just couldn't score on their bullpen," Orioles manager Brandon Hyde said
Still, the Orioles have 11 home runs so far this season -- the same as the Yankees -- and their 34 runs scored are five more than the Yankees' total. The difference between the teams is on the mound
New York has a team ERA of 2.33 and has given up 14 runs. Baltimore pitchers have surrendered 34 runs (31 earned) and have a team 5.40 ERA.
On Friday, the Orioles will start right-hander Dean Kremer (0-0, 15.00 ERA), aiming for a better outing than his first appearance of the season. He was tagged for five runs in three innings Saturday at Boston, giving up six hits and striking out three
Kremer is 1-3 with a 5.34 ERA in six all-time starts against the Yankees. He has averaged more than a strikeout an inning (33 in 28 2/3) in those games
The Yankees are expected to go with right-hander Clarke Schmidt (0-0, 8.10), who also struggled in his first start Saturday. He allowed three runs on five hits -- two of them home runs -- in 3 1/3 innings during New York's 7-5 loss to San Francisco
All of Schmidt's career outings against the Orioles have come in five relief appearances, going 1-1 with a 2.08 ERA covering 8 2/3 innings
Friday's game is the beginning of a three-game series between the American League East rivals. Under the new streamlined schedule, the Yankees' only other trip to Baltimore comes in July
The Yankees won 12 of the 19 games against the Orioles in 2022
Much of the chatter regarding the Orioles this week came with Wednesday's big-league debut for right-hander Grayson Rodriguez, the team's top pitching prospect. His arrival came in conjunction with pitcher Kyle Bradish going on the injury list with a foot contusion
It's unclear what early adjustments to the pitching rotation could follow the debut of Rodriguez, who had no decision in the 5-2 loss to the Rangers on Wednesday. The right-hander threw five innings and gave up two runs on four hits and a walk. He struck out five.
"One thing we are excited about is that we have depth and we have talent," Hyde said. "The one thing that wins in this league is depth. We're going to see how it goes."
--Field Level Media