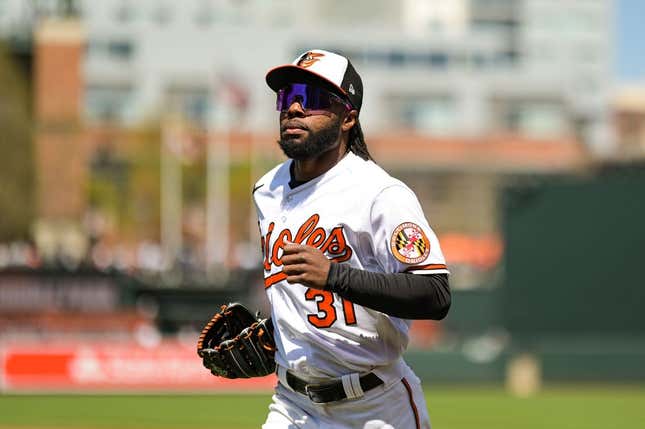 The New York Yankees and Baltimore Orioles both can stake claims as the hottest team in a competitive AL East
How running an NFL team is like running a restaurant | Chef Emeril Lagasse
Coming off successful weekends, the Yankees and visiting Orioles attempt to keep the good times rolling Tuesday night in the opener of a three-game series at Yankee Stadium
The Yankees, who took two of three in Baltimore on April 7-9, are attempting to get 10 games over .500 for the first time this season. The Yankees are 14-5 since falling to 15-15 after a loss on May 1 and have won four straight
During New York's 19-game hot stretch, it is 6-5 against AL East teams, including taking three of four in Toronto last week as part of a 6-1 road trip. The Yankees completed the trip by finishing off a three-game sweep in Cincinnati on Sunday, when Harrison Bader hit a two-run homer and Gleyber Torres also connected in a 4-1 victory
New York's hot streak also coincides with Aaron Judge's return from a brief absence due to a strained right hip. Judge did not play Sunday, but the Yankees are 10-3 since his return and the slugger is hitting .378 (17-for-45) with seven homers and 18 RBIs since coming back
"Great trip," New York manager Aaron Boone said. "Tough stretch, 33 games out of 34 (days). We've been beat. We've got some guys out. I'm excited by how well this team is competing. Walk in with edge, prepare and compete. They're doing that at a high level right now."
Baltimore heads to New York 15 games over .500 for the first time since ending the 2016 season at 89-73.
Since a three-game losing streak May 6-8, the Orioles are 9-3 and 5-1 in their past six, including three straight
The Orioles are coming off their third series sweep this season after scoring five times in the 11th inning of Sunday's 8-3 win in Toronto. Baltimore collected 31 hits in the series and Cedric Mullins went 7-for-15
Mullins was 5-for-6 with three RBIs Sunday and is hitting .320 (24-for-75) in 19 games this month. Austin Hays collected three hits, reached base four times and scored the tiebreaking run in the 11th.
"This was huge," Mullins said. "We had a couple of battles in this series and we were able to come out on top. It's a huge confidence boost going into New York."
Baltimore's next challenge will be attempting to produce offense against Gerrit Cole (5-0, 2.01), who is coming off four straight no-decisions. Cole allowed nine earned runs over 16 innings in his first three starts in May but pitched six-plus scoreless innings Wednesday in Toronto, a loss to the Jays in 10 innings.
Cole is 5-3 with a 2.33 ERA in 10 career starts against Baltimore. He was 1-2 with a 4.29 ERA in three starts last season against the Orioles
Kyle Bradish (2-1, 3.90) starts for the Orioles after pitching into the seventh inning for the first time this season. Bradish followed up six scoreless innings in a no-decision against Pittsburgh on May 12 by allowing one run on four hits in 6 2/3 innings of Wednesday's 3-1 home win over the Los Angeles Angels
Bradish is 0-1 with a 3.86 ERA in two career starts against the Yankees
--Field Level Media